Nut for joint sets
Nut for joint set black zinc
Stocks
Farnham: 151753
Los Angeles: 110697
Lawrenceville: 266160
Used to assemble all of our Flexpipe joints
High corrosion resistance
3600 units per box (please order individually)
The M6-N is a black coated metal nut that is used to assemble all 18 of the different connectors in the Flexpipe system.
Keeping a box or two of M6-N in inventory is crucial, since you will use a good amount of them for every structure. This nut and the M6-25B bolt are the foundation of all Flexpipe structures.

The M6-N nut was designed to assemble Flexpipe HJ joints, and it was created to do only that. We don't recommend that you use this part with the M6-N nut to connect anything other than the Flexpipe system.
Technical Information:
(It is essential that the bolt and nut are tightened between 12-14 N.m torque)
Antistatic Version (ESD):
Be sure to select the antistatic version M6-25NWZ for all the ESD connectors. This version is nickel-plated to provide the same ESD characteristics as the Nickel Plated joints.
More Information

| | |
| --- | --- |
| Units per box (sold separately) | 3600 |
| Height inches | 5/16 in (8mm) |
| Unit weight pounds | 0.004 lbs (0.002 kg) |
| Box dimensions inches | 11 X 9 X 5 in (279mm X 229mm X 127mm) |
| common uses | HJ-1, HJ-2, HJ-3, HJ-4, HJ-5, HJ-6, HJ-6A, HJ-7, HJ-7A, HJ-8, HJ-9, HJ-12, HJ-13, HJ-14, HJ-17, HJ-19 and HJ-90 |
| Recyclable | Yes |
| Compatible pipe systems | Flexpipe, Creform, Fastube |
| Noncompatible pipe systems | Trilogiq |
| Reusable | Yes |
| Electric conductivity (ESD) | No |
| Material | Scm440 |
| Steel hardness (HRB) | 45% |
| Finish | Glossy |
| System operational temperature | -40°F à 122°F (-40°C à 50°C) |
| Steel treatment | Black cathodic electrodeposition (Ecoating) |
| Manufacturing technique | Pressed |
Ensure you have the following parts:

1x Joint set of your choice
(1-4)x M6-25B bolts (depending on Joint set)
(1-4)x M6-N nuts (depending on Joint set)
(2-5)x 28mm pipes of your choice (depending on Joint set)
1x T-HANDLE 5mm hex key

Group connectors around corresponding pipes.
Make sure to put the bolt on the most accessible side and insert the smaller diameter of the nut into the corresponding hole.
Loosely tighten all M6-25B bolts and M6-N nuts by putting them in the corresponding openings of the particular joint set.(Press the nut into the connector using your finger tip and turn the bolt into the nut with other hand).
Fully insert all pipes
Tighten completely the M6-25B and the M6-N together until the Joint set is firmly attached to the pipes. A force between 12-14 Nm is recommended for this step.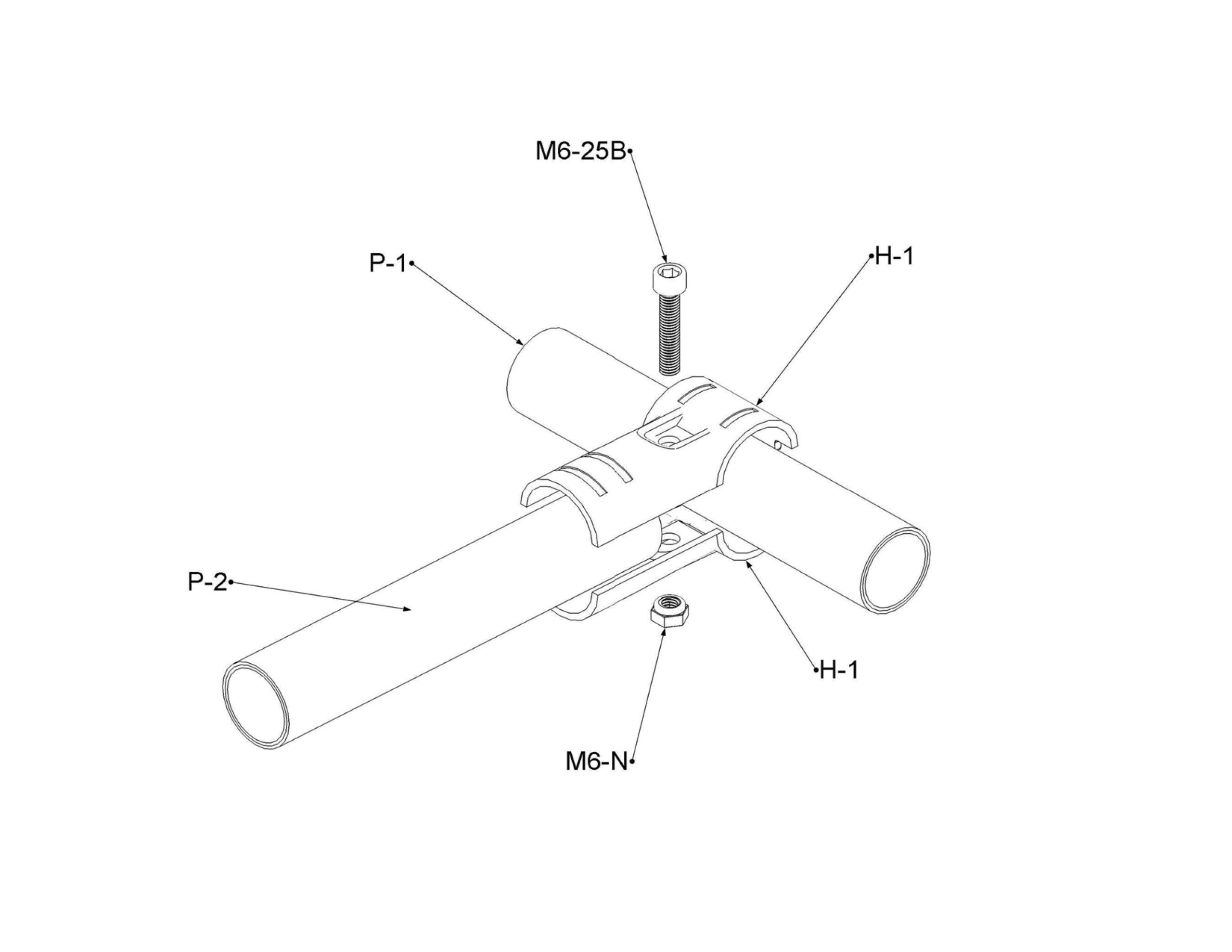 Need more informations ?
Here's everything you need to know!