Intersection open joint set
Inter. open joint set steel bk
The HJ-7A is a metal connector set that allows connecting two perpendicular pipes one above another, however, unlike the HJ-7, one side of the joint is open. This is particularly important, and a surface needs to be in contact directly with the pipe. This could be useful if you are building an embedded area with AI-CORNER and AI-CENTER, and you want to create a wire mesh under the surface area.

To make an HJ-7A, you need to assemble two H-7A together with one M6-25B bolt and one M6-N nut. The applications for this connector are quite limited, since we recommend that you work as much as you can with closed joints to create more strength in your structures. At Flexpipe, we also realize that you will need to avoid creating contact between the surface and the metal connector, and this is why this joint exists. This assembly will remove the need to use AO-SHIM.

Like all the Flexpipe connectors, the HJ-7A is compatible with most pipe and joint systems out there. Like the HJ-7, this connector will be fairly easy to assemble.

More Information

| | |
| --- | --- |
| Best Seller | No |
| Units per box | NA |
| Needed parts | 2 (H7A) + 1 (M6-25B) + 1 (M6-N) |
| External height inches | 1 5/16 in (33mm) |
| External width inches | 2 11/16 in (68mm) |
| External depth inches | 1 5/16 in (33mm) |
| Unit weight pounds | 0.196 lbs (0.089 kg) |
| RoHS certification | Yes |
| Recyclable | Yes |
| Frequency of use | Low |
| Reusable parts | Yes |
| Electric conductivity (ESD) | No |
| Material | Hot rolled steel (SPHC) |
| Steel hardness (HRB) | 0.65 |
| Finish | Glossy |
| UV resistance | High |
| System operational temperature | -40°F à 122°F (-40°C à 50°C) |
| Steel treatment | Black cathodic electrodeposition (Ecoating) |
1- Make sure you have the following parts:
2 H-7A
1 M6-25B
1 M6-N
2 28mm pipes of your choice
1 Allen key or one drill equippedwith an allen key with a 5 mm tip
2-Take two connectors H-7A and group them around the P1 and P2 pipes.
3-Take a M6-25B bolt and a M6-N nut and insert them into the corresponding openings. Make sure to put the bolt on the more accessible side.
4- Tighten completely the M6-25B bolt and M6-N nut together until the HJ-7A attached firmly to the two pipes . A force of 9.8 Nm is recommended for this step.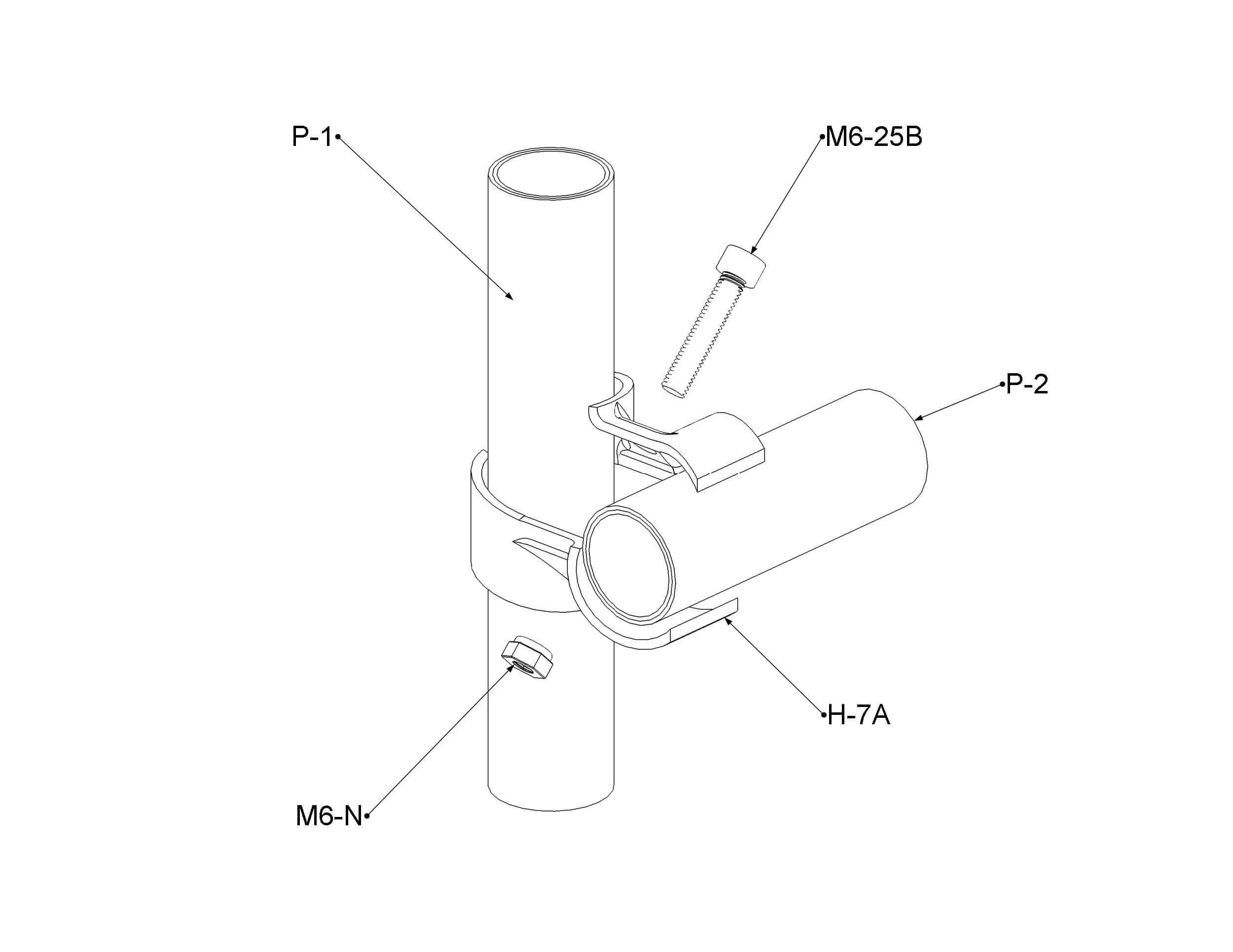 Need more informations ?
Here's everything you need to know!