End cap
End cap plastic bk
Stocks
Farnham: 20844
Los Angeles: 33208
Lawrenceville: 65625
Fits 0.7mm, 1.0mm, and 2.0mm pipes
Ideal for tubing enclosures
400 units per box (please order individually)
The AP-ICAP is a rubber cap made to fit perfectly inside the 28mm pipes we use at Flexpipe. Designed to be press-fitted into the tube ultimately creating a tight seal.
This accessory is imperative when you want to improve safety by preventing cuts. It adds longevity to your structures by reducing potential water infiltration thus preserving the interior of the pipe from corrosion and overall dust-free tubes by sealing the openings of the pipes. It can also be used as an anti-scratch cap to eliminate damaging any fragile flooring by a metal foot or an exposed pipe end.
Antistatic (ESD):
Compatible with ESD pipes.
Installation Steps
See the installation steps tab to view how to assemble the AP-ICAP.
Want to reuse parts of your old system?
The AP-ICAP is compatible with many other pipe and connector systems. Check the technical information tab to know which systems are compatible and none-compatible with our parts.
All AP-ICAP are sold individually.
To make it easier for you, we indicated the quantity included in a box if you want to order a complete box. However, our order system considers a single amount only. Please enter the total amount of caps you wish to receive (example; 400 units = 1 box).
More Information

| | |
| --- | --- |
| Units per box (sold separately) | 400 |
| Height inches | 11/16 in (17mm) |
| Width inches | 1 1/16 in (27mm) |
| Depth inches | 1 1/16 in (27mm) |
| Unit weight pounds | 0.007 lbs (0.003 kg) |
| Box dimensions inches | 11 X 9 X 5 in (279mm X 229mm X 127mm) |
| Recyclable | Yes |
| Compatible pipe systems | Flexpipe, Creform, Fastube |
| Noncompatible pipe systems | Trilogiq |
| Reusable | No |
| Electric conductivity (ESD) | Non |
| Material | Thermoplastic Rubber (TPR) |
| Finish | Glossy |
| System operational temperature | -58°F à 185°F (-50°C à 85°C) |
| Manufacturing technique | injection molding |
Ensure you have the following parts:

1x AP-ICAP
1x 28mm pipe of your choice

Insert AP-ICAP into P1 pipe
Press-fit into place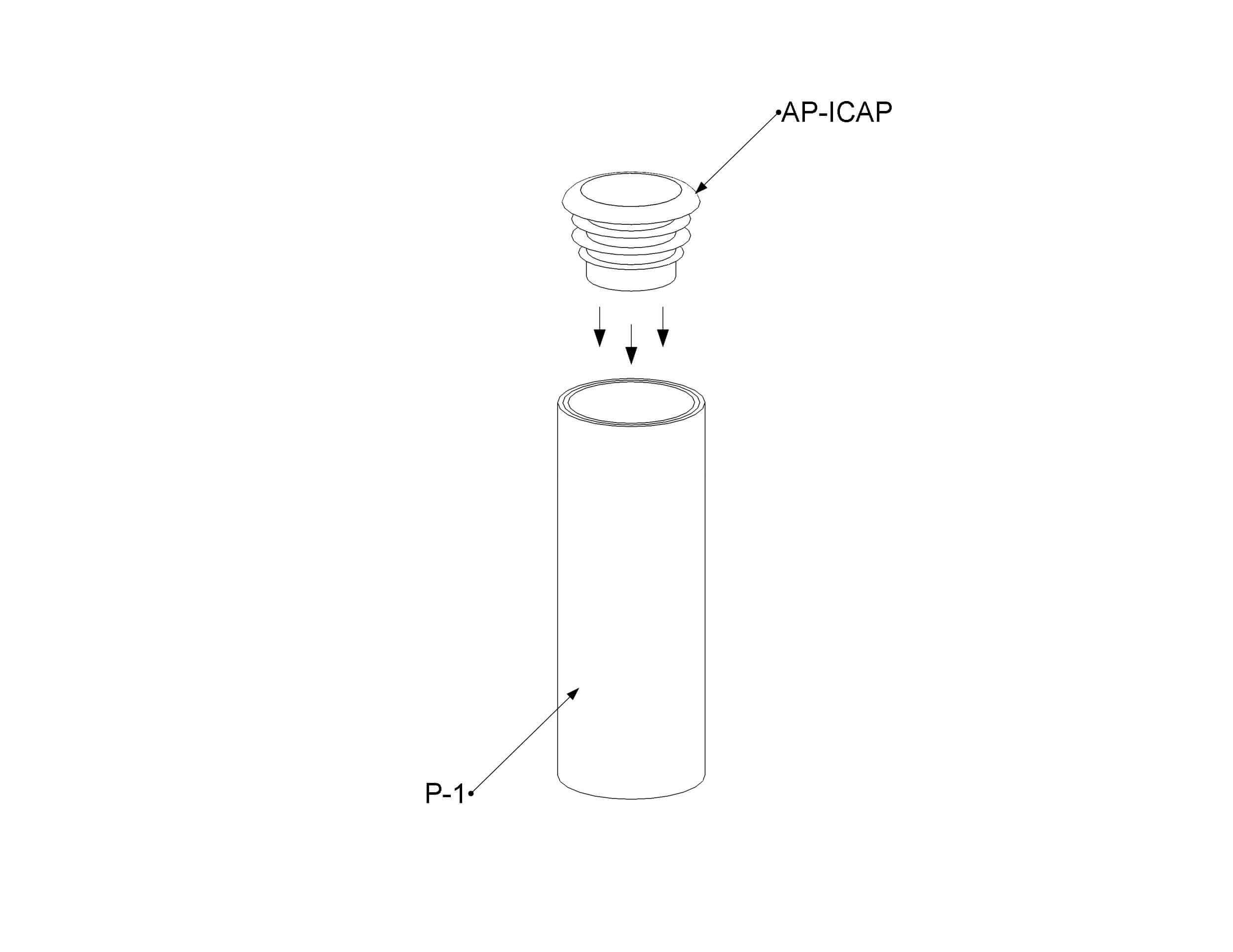 Need more informations ?
Here's everything you need to know!