3 way cross joint set
3 way cross joint set steel cr
Compatible with 28 mm pipes
Assembly required
Joint set with antistatic properties (ESD)
The HJ-4NP is a chrome-plated joint set with antistatic properties (ESD) that allows creating a three-pipe intersection on two axes. This joint set is the best option when you need to create separations without weakening the rigidity of your structure. It will give you the option of making a pipe grid, similar to welded wire mesh, but with fewer tubes than it would require with HJ-7NP connectors. This HJ-4NP will also be ideal when you need to create an intersection between two perpendicular pipes, but you don't want to weaken the strength of a long pipe or long pipe series. It allows you to secure stem-mount casters easily at the bottom of your structure.
To assemble an HJ-4NP you need to combine two H-4NP together with two M6-25BWZ bolts and two M6-NWZ nuts.
Technical Information:
This joint set is designed with 12 striations for a better grip on the plastic coating of the 28 mm pipes. It also includes 6 additional pre-drilled reinforcement holes to ensure extra strength to your structure. By adding a self-drilling screw F-A85/8, you will solidify the connector joints positioned on a corner where there is a higher risk of impact.
Installation Steps
See the installation steps tab to view how to assemble this connector.
Non-Electric Conductivity Version:
A version of this joint set is offered without antistatic properties: HJ-4
Want to reuse parts of your old system?
The HJ-4NP Flexpipe joint set is compatible with many other pipe and connector systems. Check the technical information tab to know which systems are compatible and none-compatible with our parts.
More Information

| | |
| --- | --- |
| Needed parts | 2x H-4NP + 2x M6-25BWZ + 2x M6-NWZ |
| Length inches | 5 1/8 in (130 mm) |
| Width inches | 1 5/16 in (33 mm) |
| External height inches | 3 1/4 in (83mm) |
| External width inches | 5 1/8 in (130mm) |
| External depth inches | 1 5/16 in (33mm) |
| Steel thickness inches | 1/8 in (2.5 mm) |
| Unit weight pounds | 0.506 lbs (0.230 kg) |
| Compatible joint systems | Creform, NIS, C Tek Lean Solutions, Trilogiq (28 mm) |
| Noncompatible joint systems | Fastube, Trilogiq (28.6 mm) |
| RoHS certification | Yes |
| Recyclable | Yes |
| Compatible pipe systems | Creform, Fastube, Trilogiq (28 mm), NIS (28 mm), C Tek Lean Solutions (28 mm) |
| Noncompatible pipe systems | Trilogiq (28.6 mm) |
| Frequency of use | High |
| Reusable | Yes |
| Reusable parts | Yes |
| Electric conductivity (ESD) | Yes |
| Material | Hot rolled steel (SPHC) |
| Steel hardness (HRB) | 68-75 HRB |
| Finish | Shiny |
| UV resistance | High |
| System operational temperature | -148°F to 572°F (-100°C to 300°C) |
| Steel treatment | Chrome plating |
| Manufacturing technique | Stamping and deburring |
| Striations for grip | 12 striation grip lines |
| Positioning guide | 8 positioning guide lines |
| Additional reinforcement hole | 6 reinforcement holes |
Ensure you have the following parts:
Take the two H-4NP connectors and group them around the first pipe.
Fix the connectors by placing an M6-25BWZ with an M6-NWZ in the corresponding opening and loosely tighten. Repeat with the remaining M6-25BWZ and M6-NWZ. Make sure to place the bolts on the most accessible side.
Insert the second and the third pipes within the openings of the HJ-4NP, and between the first and the second positioning guidelines.
Tighten the M6-25BWZ and the M6-NWZ until the HJ-4NP is firmly attached to the three pipes.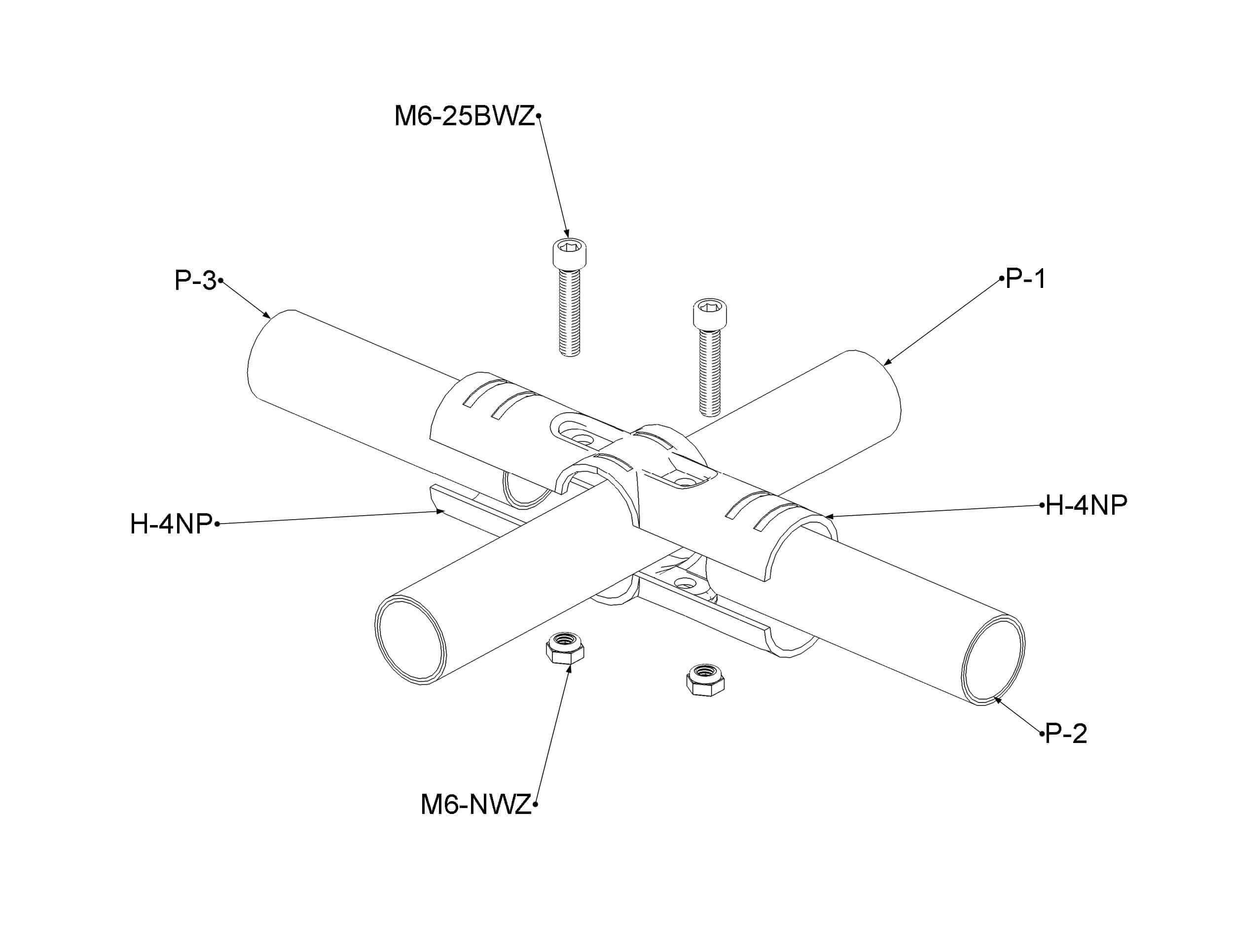 Need more informations ?
Here's everything you need to know!