Tee joint set steel black
Tee joint set steel bk
Compatible with 28 mm pipes
Assembly required
The HJ-1 is a black metal joint set that allows you to connect two 28 mm pipes in a T-shape or to create a corner. You can rotate this connector up to 360-degree before fixing it to make 45- or 90-degree support for surfaces or just for supporting your products.
This connector was designed for a quick and easy installation. This piece is the simplest to assemble and the most commonly used in the entire Flexpipe system. Applications for this connector are numerous; from corners to separations, pegs, 45-degree supports and supports for accessories like the AW-HOLDER. To assemble an HJ-1 you need to put two H-1 together with an M6-25B bolt and an M6-N nut. You should always keep a box of these three parts in inventory since they are going to be used in 95% of your Flexpipe structures.
Technical Information:
This joint set is designed with 8 striations for a better grip on the plastic coating of the 28 mm pipes. It also includes 4 additional pre-drilled reinforcement holes to ensure extra strength to your structure. By adding a self-drilling screw F-A85/8, you will solidify the connector joints positioned on a corner where there is a higher risk of impact.
Installation Steps
See the installation steps tab to view how to assemble this connector.
Antistatic Version (ESD):
An electric conductivity version if offered if you wish to build antistatic structures: HJ-1NP
Want to reuse parts of your old system?
The HJ-1 Flexpipe joint set is compatible with many other pipe and connector systems. Check the technical information tab to know which systems are compatible and none-compatible with our parts.
More Information

| | |
| --- | --- |
| Units per box (sold separately) | NA |
| Needed parts | 2x H-1 + 1x M6-25B + 1x M6-N |
| Length inches | 3 1/4 in (83 mm) |
| Width inches | 1 5/16 in (33 mm) |
| External height inches | 3 1/4 in (83mm) |
| External width inches | 1 5/16 in (33mm) |
| External depth inches | 1 5/16 in (33mm) |
| Steel thickness inches | 1/8 in (2.5 mm) |
| Unit weight pounds | 0.315 lbs (0.143 kg) |
| Compatible joint systems | Creform, NIS, C Tek Lean Solutions, Trilogiq (28 mm) |
| Noncompatible joint systems | Fastube, Trilogiq (28.6 mm) |
| RoHS certification | Yes |
| Recyclable | Yes |
| Compatible pipe systems | Creform, Fastube, Trilogiq (28 mm), NIS (28 mm), C Tek Lean Solutions (28 mm) |
| Noncompatible pipe systems | Trilogiq (28.6 mm) |
| Frequency of use | Very high |
| Reusable | Yes |
| Reusable parts | All |
| Electric conductivity (ESD) | No |
| Material | Hot rolled steel (SPHC) |
| Steel hardness (HRB) | 68-75 HRB |
| Finish | Glossy |
| UV resistance | High |
| System operational temperature | -148°F to 572°F (-100°C to 300°C) |
| Steel treatment | Black cathodic electrodeposition (Ecoating) |
| Manufacturing technique | Stamping and deburring |
| Striations for grip | 8 striation grip lines |
| Positioning guide | 4 positioning guide lines |
| Additional reinforcement hole | 4 reinforcement holes |
Ensure you have the following parts:
Put the two H-1 together around the first pipe.
Fix the two H-1 with the M6-25B and the M6-N by putting them in the corresponding opening of the H-1. 
Tighten the M6-25B and the M6-N a few threads, but not too much.
Insert the second pipe between the two H-1 at the opposite side of the joint, between the first and second guides as shown in the plan.
Tighten completely the M6-25B and the M6-N together until the H-1 are attached firmly to the two pipes.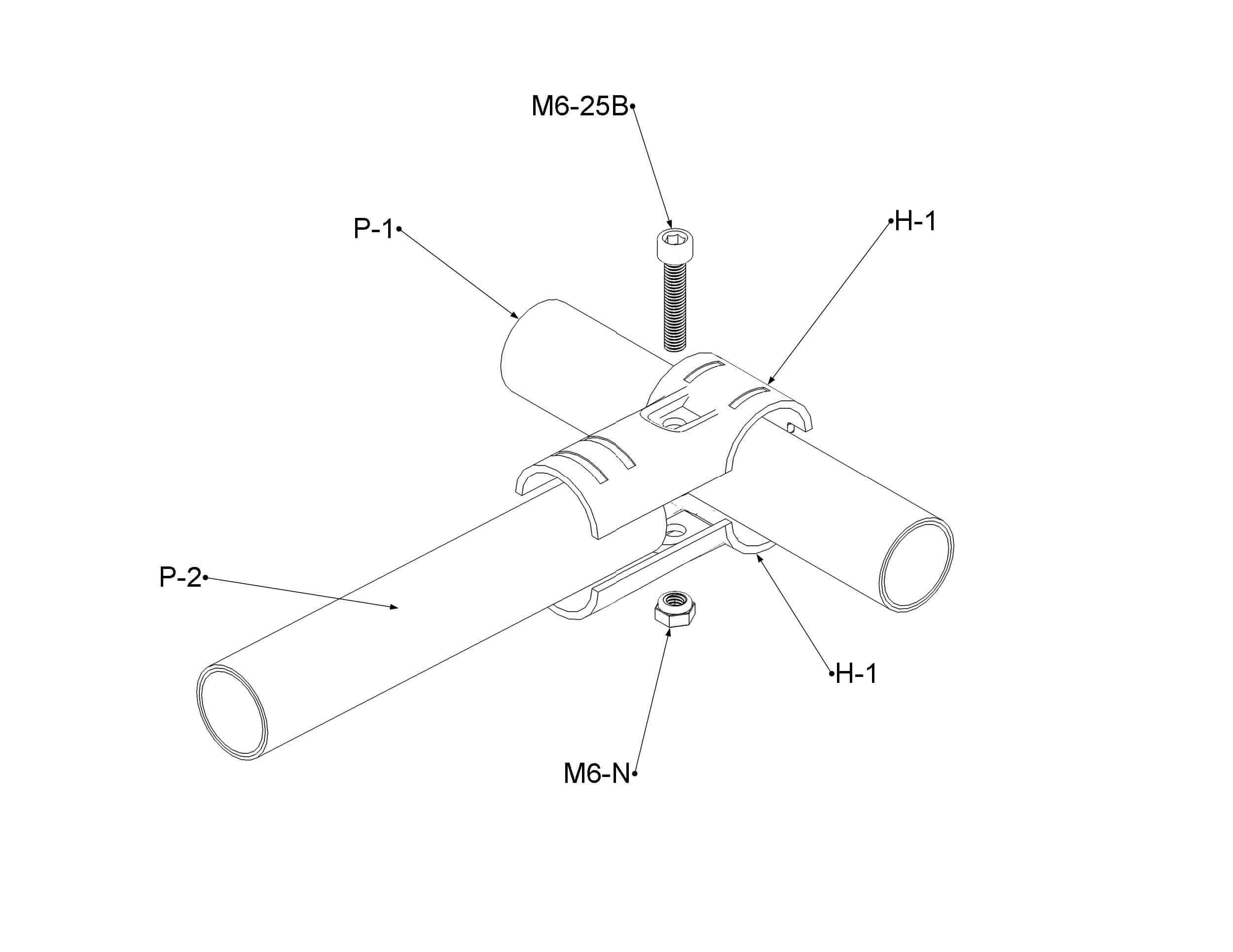 Need more informations ?
Here's everything you need to know!