Pipe connector
Pipe connector steel zinc
Stocks
Farnham: 1189
Los Angeles: 887
Lawrenceville: 2334
Create structures longer than 96 inches
Fits inside standard 28MM pipes (1MM thick)
100 units per box (please order individually)
The AP-CNNCT is a metal coupling that allows you to join two pipes together.
Our standard pipes are 8 feet long. However, we also know some of you would like to build structures longer than 8 feet long. AP-CNNCT is the answer. The coupling is designed to provide a tight fit inside of the pipes making it very difficult to remove once inserted.
Select the AP-CNNCT2 if using the EP-96-ST pipe.
Assembly Tip: Due to the spacing created by the rib in the middle of this accessory, plan to add 1/8" (3.2mm) to the overall dimensions of your pipe length of structure. If you are using our Flexpipe Creator 3D software, this measurement will automatically adjust to the cut list when using this accessory.
Antistatic (ESD):
Compatible with black ESD pipe
Installation Steps:
See the installation steps tab to view how to assemble the AP-CNNCT
Want to reuse parts of your old system?
The AP-CNNCT is compatible with many other pipe and connector systems. Check the technical information tab to know which systems are compatible and none-compatible with our parts.
More Information

| | |
| --- | --- |
| Units per box (sold separately) | 100 |
| Height inches | 7/8 in (22mm) |
| Width inches | 7/8 in (22mm) |
| Depth inches | 3 9/16 in (90mm) |
| Unit weight pounds | 0.114 lbs (0.052 kg) |
| Box dimensions inches | 11 X 9 X 5 in (279mm X 229mm X 127mm) |
| Recyclable | Yes |
| Compatible pipe systems | Flexpipe, Creform, Fastube |
| Noncompatible pipe systems | Trilogiq |
| Reusable | No |
| Electric conductivity (ESD) | Yes |
| Material | Hot rolled steel (SPHC) |
| Steel hardness (HRB) | 0.65 |
| Finish | Glossy |
| System operational temperature | -58°F à 185°F (-50°C à 85°C) |
| Steel treatment | Galvanised |
| Manufacturing technique | Folded and welded |
Ensure you have the following parts:


1x AP-CNNCT
2x 28mm pipes of your choice
1x Mallet

Take the AP-CNNCT and slightly insert it inside the P1 pipe.
Insert completely the AP-CNNCT inside the P1 pipe with the help of a mallet.
Connect the P2 pipe on the remaining side of the AP-CNNCT.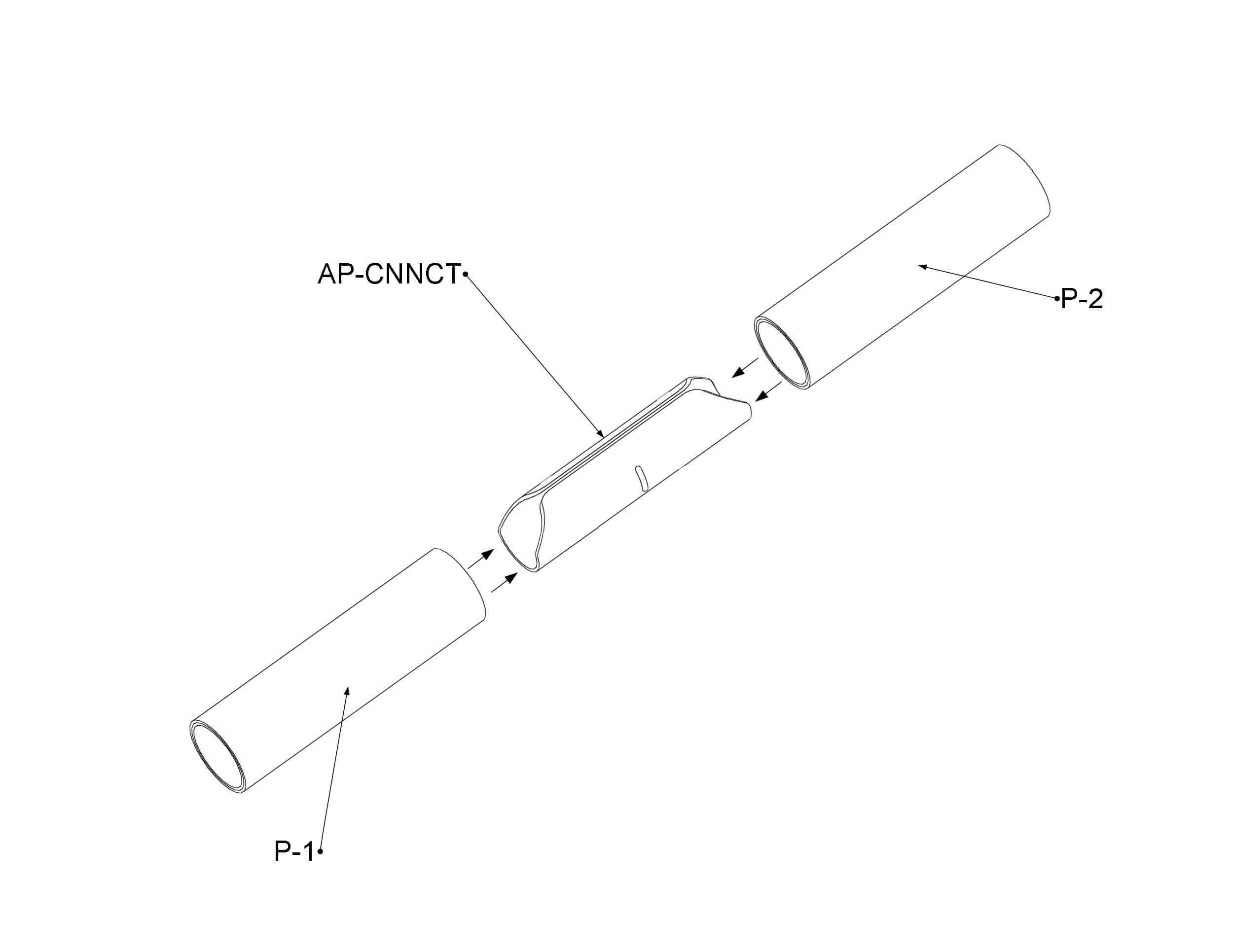 Need more informations ?
Here's everything you need to know!