Tee hinge joint set
Tee hinge joint set steel bk
Great for sliding or swiveling mechanisms

Great for doors and drop-down extensions

Great for adjustable mechanisms
This HJ-12 joint set consists of (x2) H-12, (x1) AP-HINGE, (x1) M6-25B bolt and (x1) M6- N nut
This joint set can rotate 360 degrees, (depending on design) Very similar to the HJ-1 in shape, and can be used for swivel and sliding mechanisms.
To assemble an HJ-12 you need to put x2 H-12 together with a hinge bracket AP-HINGE, x1 M6-25B bolt, and x1 M6-N nut using a 5 mm T- handle wrench.
Assembly tip:
This joint set is frequently used to create doors, movable separators and foldable shelves. Psst! If you don't need this joint set to be mobile, the HJ-1 may be a better fit for your needs.
Technical Information:
This joint set is designed with 4 striations for a better grip on the plastic coating of the 28 mm pipes. It also includes 2 additional pre-drilled reinforcement holes to ensure extra strength to your structure. By adding a self-drilling screw F-A85/8, you will solidify the connector joints positioned on a corner where there is a higher risk of impact.
Installation Steps:
See the installation steps tab to view how to assemble this connector.
Antistatic Version (ESD):
An electric conductivity version if offered if you wish to build antistatic structures: HJ-12NP
Want to reuse parts of your old system?
The HJ-12 Flexpipe joint set is compatible with many other pipe and connector systems. Check the technical information tab to know which systems are compatible and none-compatible with our parts.
More Information

| | |
| --- | --- |
| Units per box (sold separately) | NA |
| Needed parts | 2x H-12 + 1x AP-HINGE + 1x M6-25B + 1x M6-N |
| Length inches | 3 5/16 in (84 mm) |
| Width inches | 1 5/16 in (33 mm) |
| External height inches | 1 7/16 in (36mm) |
| External width inches | 3 5/16 in (84mm) |
| External depth inches | 1 1/2 in (38mm) |
| Steel thickness inches | 1/8 in (2.5 mm) |
| Unit weight pounds | 0.310 lbs (0.141 kg) |
| Compatible joint systems | Creform, NIS, C Tek Lean Solutions, Trilogiq (28 mm) |
| Noncompatible joint systems | Fastube, Trilogiq (28.6 mm) |
| RoHS certification | Yes |
| Recyclable | Yes |
| Compatible pipe systems | Creform, Fastube, Trilogiq (28 mm), NIS (28 mm), C Tek Lean Solutions (28 mm) |
| Noncompatible pipe systems | Trilogiq (28.6 mm) |
| Frequency of use | Low |
| Reusable | Yes |
| Reusable parts | Yes |
| range of motion | 360° |
| Electric conductivity (ESD) | No |
| Material | Hot rolled steel (SPHC) |
| Steel hardness (HRB) | 68-75 HRB |
| Finish | Glossy |
| UV resistance | High |
| System operational temperature | -148°F to 572°F (-100°C to 300°C) |
| Steel treatment | Black cathodic electrodeposition (Ecoating) |
| Manufacturing technique | Stamping and deburring |
| Striations for grip | 4 striation grip lines |
| Positioning guide | 4 positioning guide lines |
| Additional reinforcement hole | 2 reinforcement holes |
Ensure you have the following parts:
Take the AP-HINGE bracket and press it on the first pipe until it clips on, place the opening of the AP-HINGE toward inside of your structure.
Group the two H-12 connectors around the first pipe so that the teeth of the AP-HINGE fit into the corresponding openings of the connectors, ensuring proper installation.
Fix the connectors together by placing the M6-25B bolt with the M6-N nut in the corresponding openings and completely tighten until the HJ-12 joint set is firmly attached to the pipe. Make sure to place the bolts on the most accessible side.
If the HJ-12 joint set feels too tight to rotate, apply a lubricant spray to ease the mobility of the AP-HINGE and to avoid damaging the plastic teeth.
Add a metal screw to the pre-drilled reinforcement hole to secure the connector on the second pipe. This can be useful when this connector is used to make shelvings and prevent the material from falling.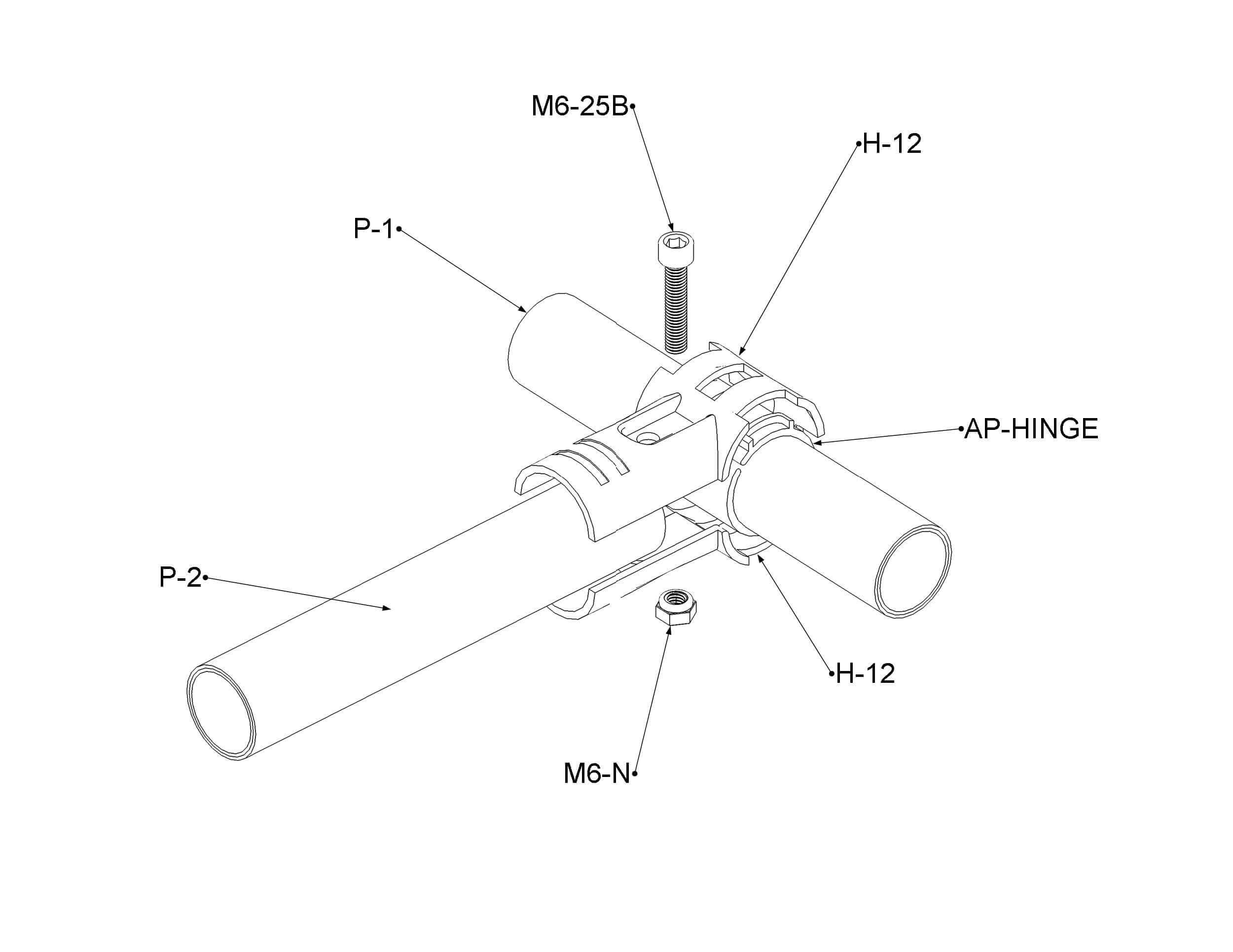 Use without the AP-HINGE when space is limited and you need to overlap two joints.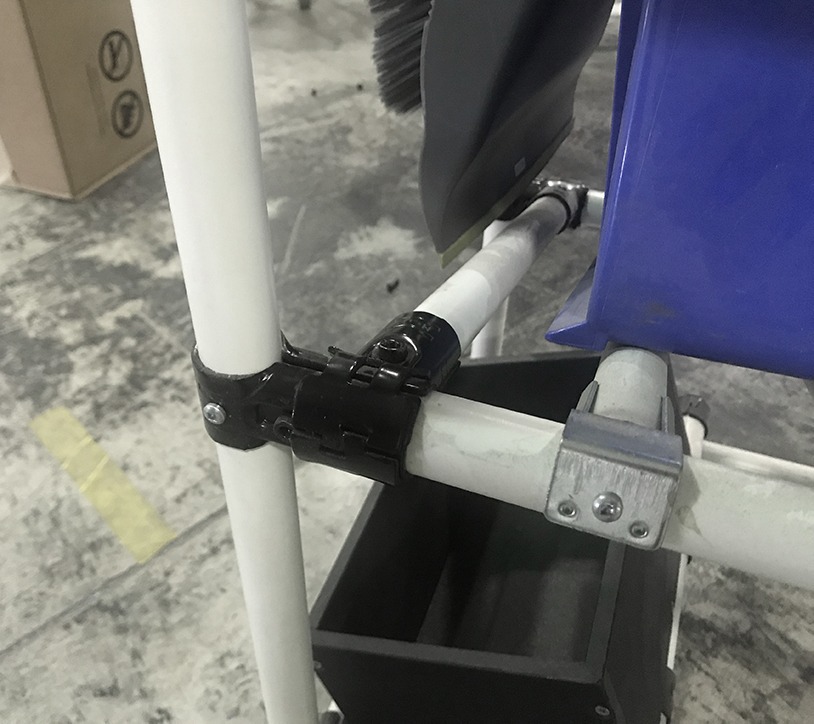 The HJ-12 can be moved vertically and horizontaly
Need more informations ?
Here's everything you need to know!