8' lateral roller guide
8' central PVC plastic guide black
Stocks
Farnham: 2756
Los Angeles: 556
Lawrenceville: 1225
Electric conductivity (ESD)
Polyethylene lateral guide for flow rack's containers
Compatible with other 1 1/16 in (28mm) pipe and joint systems
Do more with less! Your Flexpipe parts cut and shipped at an advantageous rate with our linear cutting service!
R40-GUIDE is a lateral 96 inches long black polyethylene ESD guide for containers. This part is used for keeping containers to move straight on the rails of a long flow rack.
If you have an uneven floor and adding adjustable feet are not enough to level your structures completely, the R40-GUIDE is the perfect solution to make sure your containers move in the direction you intended.
Make sure to remove 4 inches off the R40-GUIDE less than the roller track length when designing a flow rack. This will ensure to have enough space for the R40 mounts you would have decided to use. For example, if you decide to use the R40-RT96 at its full length (96 inches), your guide should be at a maximum length of 92 inches.
The Flexpipe roller track and its accessories will work on any 28mm pipe and joint systems. Some systems don't have the same conveyor size, so be sure to check the spec sheet to see if your old conveyor parts are compatible.
Learn more on different accessories configuration on the How to build modular flow racks page. Every part of the Flexpipe conveyor system is ESD, allowing you to build antistatic structures for the transportation of electronics and electrical components.
Don't know where to begin? Our flow rack starter kit could be really helpful!
CUTTING SERVICE
Pre-cut service is now available for this product. Read more about our pre-cut service to find out how you can add it to your order.
More Information

| | |
| --- | --- |
| Units per box (sold separately) | 6 |
| Length inches | 96 in (2438 mm) |
| Height inches | 2 15/16 in (75mm) |
| Width inches | 4 1/16 in (104 mm) |
| Depth inches | 1 9/16 in (40 mm) |
| Unit weight pounds | 6.14 lb (2.79 kg) |
| Box dimensions inches | 96 X 7 X 5 po (2438mm X 178mm X 127mm) |
| Total height inches | 3 in (77 mm) |
| Compatible support systems | Creform, NIS, C Tek, Fastube |
| Compatible conveyor systems | Creform, NIS, C Tek, Fastube small wheel conveyors |
| Noncompatible conveyor systems | Trilogiq |
| Recyclable | Yes |
| Compatible pipe systems | Flexpipe, Creform, Fastube |
| Noncompatible pipe systems | Trilogiq |
| Reusable | Yes |
| Electric conductivity (ESD) | Yes |
| Material | Polyéthylène (PE) |
| Finish | Shiny |
| System operational temperature | -4°F to 104°F (-20°C to 40°C) |
| Manufacturing technique | Injection molding |
| Additional reinforcement hole | No |
Ensure you have the following parts:

1x R40-GUIDE
1x R40-RT96
1x Saw

Cut the R40-GUIDE to the desired length. Don't forget to take off the measurement of the mounts - approximately 2 inches per mount.
Insert the conveyor rail into the guide by sliding the R40-RT96 inside the R40-GUIDE.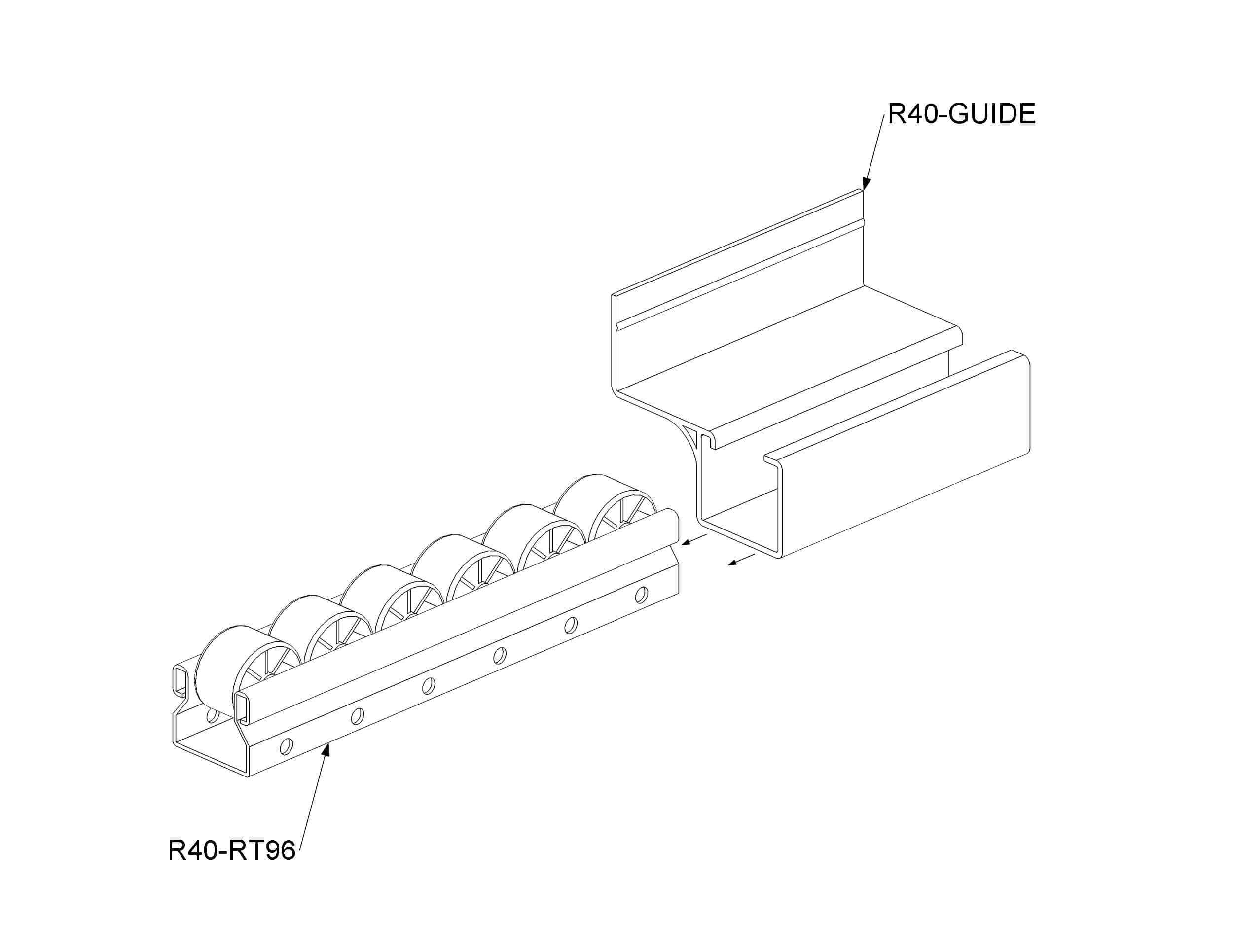 Need more informations ?
Here's everything you need to know!