20'' pair of drawer slides
20'' pair drawer slides steel zn
Stocks
Farnham: 137
Los Angeles: 45
Lawrenceville: 92
Support loads up to 99.2 lbs.
For drawers up to 22" wide
Light to medium duty applications
The FL-COU20 is an extra-low-profile side-mount full extension drawer slide. Full-extension allows drawers to open the full length of the slide, allowing for greater access
It is popular in office storage while also bringing its smooth and silent motion to box drawers, pipe and joint drawers and any other type of application which may require the use of drawer slides.
Capable to support up to 99.2 pounds per pair, it can be used for drawers up to 22" wide, it is intended for light to medium duty applications.
Combine with FL-COU-U to install to any pipe structure.
Have a look at our HOW TO to learn all about how we use the FL-COU20 here at Flexpipe!
Antistatic (ESD):
Compatible with EP-96-ST and EP-96-BK
Installation Steps:
See the installation steps tab to view how to install the FL-COU20.
Technical Specs: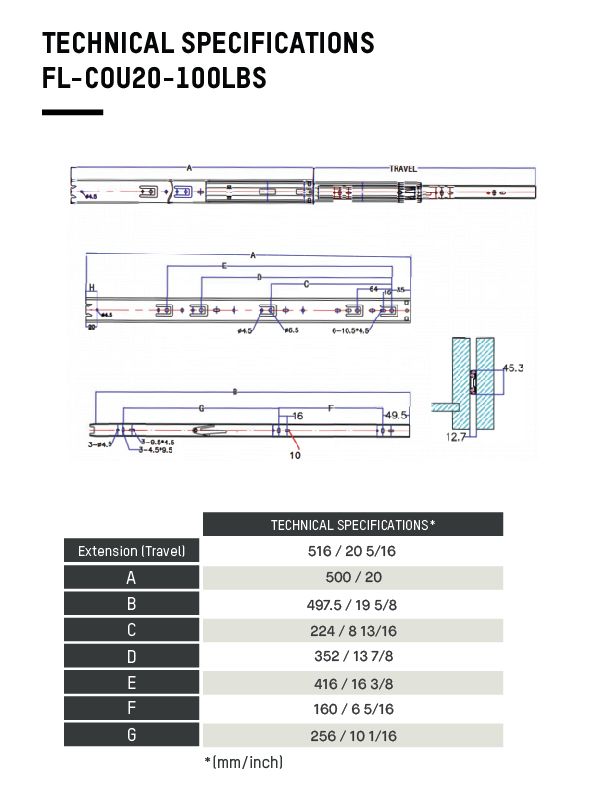 More Information

| | |
| --- | --- |
| Units per box (sold separately) | 10 |
| Length inches | 20 in (500 mm) |
| Box dimensions inches | 11 X 9 X 5 in (279mm X 229mm X 127mm) |
| common uses | Drawers |
| RoHS certification | Yes |
| Recyclable | Yes |
| Compatible pipe systems | Flexpipe, Creform, Fastube |
| Reusable | Yes |
| Electric conductivity (ESD) | Yes |
| Material | Hot rolled steel (SPHC) |
| Steel hardness (HRB) | 0.65 |
| Finish | Glossy |
| System operational temperature | -58°F à 185°F (-50°C à 85°C) |
| Steel treatment | Galvanised |
| Manufacturing technique | Folded and welded |
Ensure you have the following parts:

1x FL-COU20 (pair)
4x FL-COU-U
6x F-A85/8 (for large cabinet members)
6x F-S81/2 (for hdpe box drawer) or
6x F-A85/8 and 4x FL-COU-U (for pipe and joint drawer)
3x 28mm pipes of your choice (structure)
1x Drill w/ #2 square head

Separate slide members by pushing the disconnect latch into the drawer member.
Install large cabinet member with F-A85/8 screws and FL-COU-U to P-1 structure using the 1st hole of the HJ-1 joint set to line up the slide with the front of the structure.
Check that both cabinet members are vertically and horizontally parallel.
Make necessary adjustments.
Install drawer member through slots to side of box drawer or
pipe and joint drawer using corresponding screws
Insert drawer member after making sure ball bearing retainers are fully forward. Close drawer completely.
For more info have a look at our videos for:
How to install Hdpe drawers here and How to install pipe and joint drawers here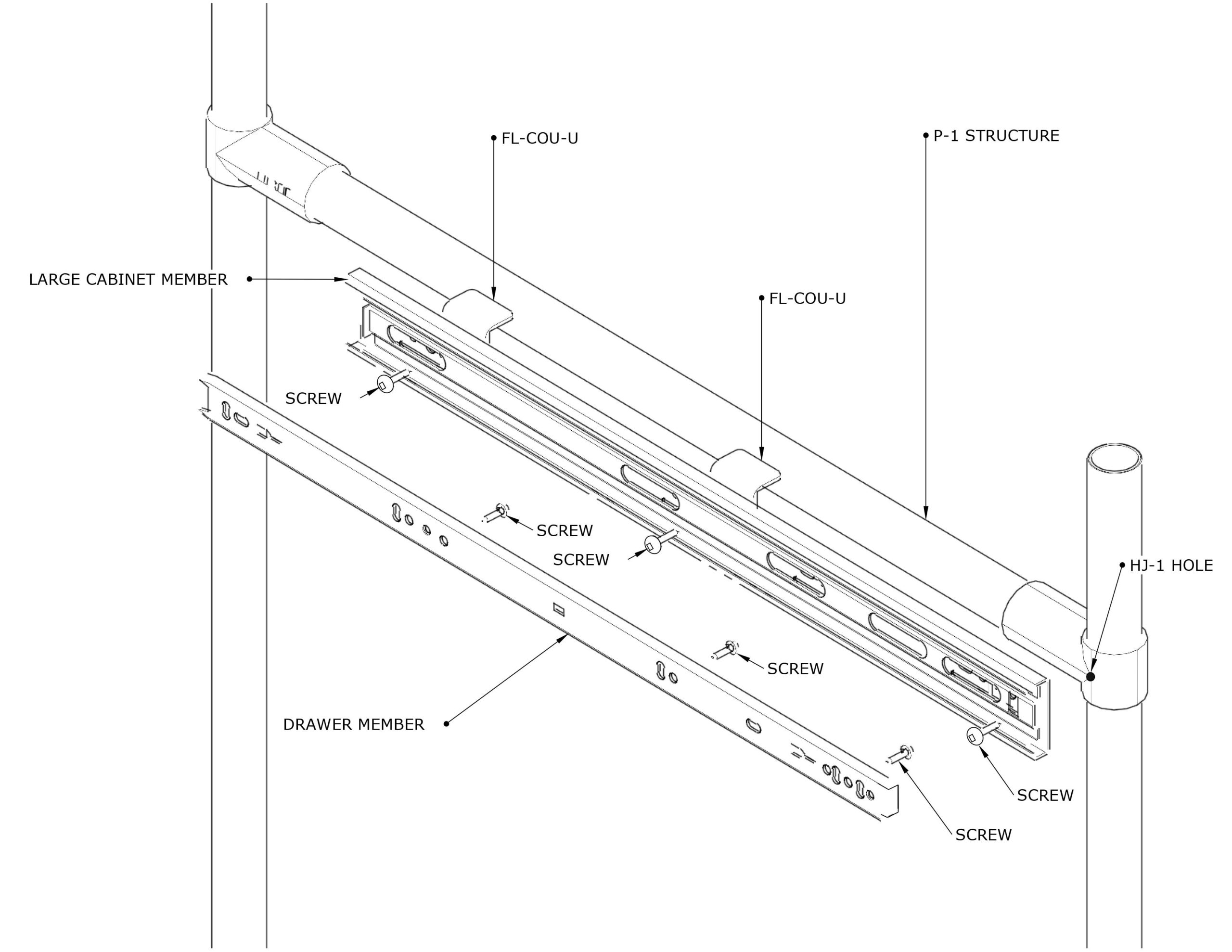 Need more informations ?
Here's everything you need to know!