Bolt quick release
Quick release lever bolt black zinc
Stocks
Farnham: 1777
Los Angeles: 1046
Lawrenceville: 2198
Ideal for adjustable mechanisms
Ergonomic handle
E-coated for optimal longevity
The M6-25BHAN is a quick-release metal bolt. We like to combine it with an HJ-1 to create height adjustable shelves
It is a ratchet style fixing screw that can be used in conjunction with
our M6-N to assemble our HJ-connectors.
The handle allows making quick adjustments to your structure effortlessly, depressing the button and lifting lever disengages the ratchet mechanism permitting the operator to relocate the handle position.
Great for adjusting heights, such as for a screen monitor.
Installation Steps:
See the installation steps tab to view how to assemble this bolt.
Technical Information:
(It is essential that the bolt is tightened between 12-14 N.m torque)
Want to reuse parts of your old system?
The M6-25BHAN is compatible with many other pipe and connector systems. Check the technical information tab to know which systems are compatible and none-compatible with our parts.
More Information

| | |
| --- | --- |
| Unit weight pounds | 0.077 lbs (0.035 kg) |
| Recyclable | Yes |
| Compatible pipe systems | Flexpipe, Creform, Fastube |
| Noncompatible pipe systems | Trilogiq |
| Reusable | Yes |
| Electric conductivity (ESD) | Yes |
| Material | Scm440 |
| Steel hardness (HRB) | 0.45 |
| Finish | Glossy |
| System operational temperature | -40°F à 122°F (-40°C à 50°C) |
| Steel treatment | Black cathodic electrodeposition (Ecoating) |
Ensure you have the following parts:

1x Joint set of your choice
1x M6-25BHAN bolt
1x M6-N nut 
2x 28mm pipes of your choice

Group connectors around corresponding pipes.
Make sure to put the M6-25BHAN bolt on the most accessible side and insert the smaller diameter of the nut into the corresponding hole.
Loosely tighten M6-25B bolt and M6-N nut.
(Press the nut into the connector using your finger tip and turning the bolt handle into the nut with other hand).
Fully insert all pipes
Tighten completely the M6-25BHAN and the M6-N together until the Joint set is firmly attached to the pipes. A force between 12-14 Nm is recommended for this step.
Lift the handle and press the center to turn handle into desired position.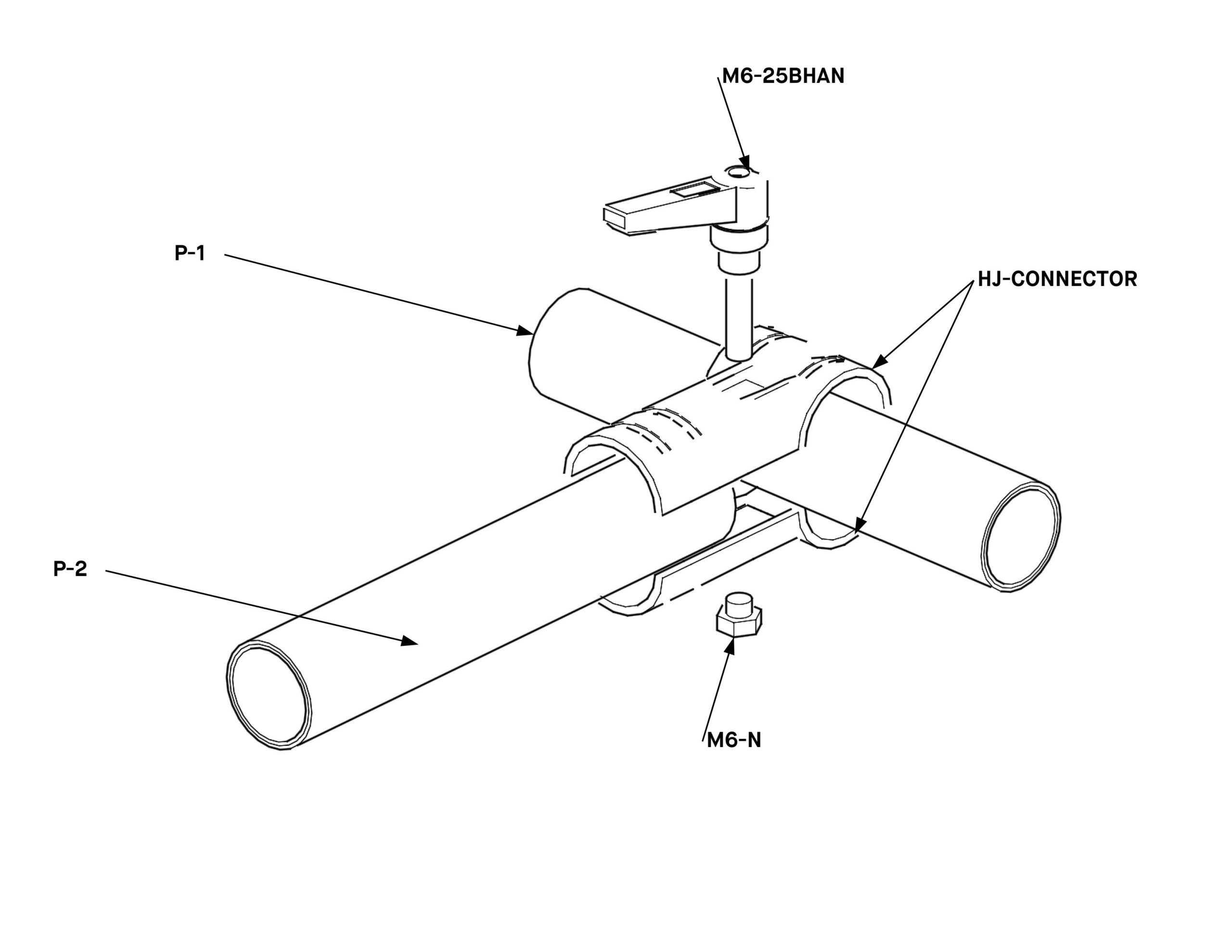 Need more informations ?
Here's everything you need to know!