Lower bracket for caster
Caster low bracket steel zinc
Stocks
Farnham: 7426
Los Angeles: 5327
Lawrenceville: 7694
Used to install plate casters
Galavanized steel
Combine with WF-UP
The WF-LOW is a metal bracket used to secure plate casters in conjunction with the WF-UP on Flexpipe structures, such as the W-4PSB and W-4PF.
WF-UP and the WF-LOW are installed with two M8-35B bolts and two M8-N nuts.
You can use this bracket to stabilize two pipes as an alternative to the HJ-13. Since the brackets are longer than the HJ-13, this could be a good option.
This accessory is not for six-inch casters. The larger version of this bracket should be chosen if this is what you need. So if you are using W-6PSB or W-6PF wheels be sure to use the WF-LARGE product page.
Antistatic (ESD):
Compatible with EP-96-ST and EP-96-BK
Installation Steps:
See the installation steps tab to view how to assemble the WF-UP.
Want to reuse parts of your old system?
The WF-UP is compatible with many other pipe and connector systems. Check the technical information tab to know which systems are compatible and none-compatible with our parts.
More Information

| | |
| --- | --- |
| Units per box (sold separately) | 180 |
| Height inches | 5/8 in (16mm) |
| Width inches | 4 9/16 in (116mm) |
| Depth inches | 1 5/16 in (33mm) |
| Unit weight pounds | 0.174 lbs (0.079 kg) |
| Box dimensions inches | 11 X 9 X 5 in (279mm X 229mm X 127mm) |
| Recyclable | Yes |
| Compatible pipe systems | Flexpipe, Creform, Fastube |
| Noncompatible pipe systems | Trilogiq |
| Reusable | Yes |
| Electric conductivity (ESD) | Yes |
| Material | Hot rolled steel (SPHC) |
| Steel hardness (HRB) | 0.65 |
| Finish | Glossy |
| System operational temperature | -58°F à 185°F (-50°C à 85°C) |
| Steel treatment | Galvanised |
| Manufacturing technique | Folded and welded |
Ensure you have the following parts:

1x W-4PSB or W-PF
2x WF-UP
2x WF-LOW
4x M8-35B
4x M8-N
2x 28mm pipes of your choice
1x Wrench
1x Ratchet

Ensure that the structure is leveled when supported by the pipes that will be wheeled. Otherwise, the height difference might cause the structure to sway.
Flip the structure for better access to the bottom pipes.
Ensure the pipes are parallel and have 3 1/4 in of center spacing.
Place the two WF-LOW perpendicular on the pipes.
Place the caster on both WF-LOW and align the openings.
Take one WF-UP and regroup it with one of the WF-LOW.
Take two M8-35B bolts and two M8-N nuts and insert them into the corresponding openings. Then lightly tighten them together.
Repeat steps 6 and 7 for the other WF-UP and the bolts and the nuts remaining.
Tighten completely the four M8-35B bolts and the four M8-N nuts in a cross pattern.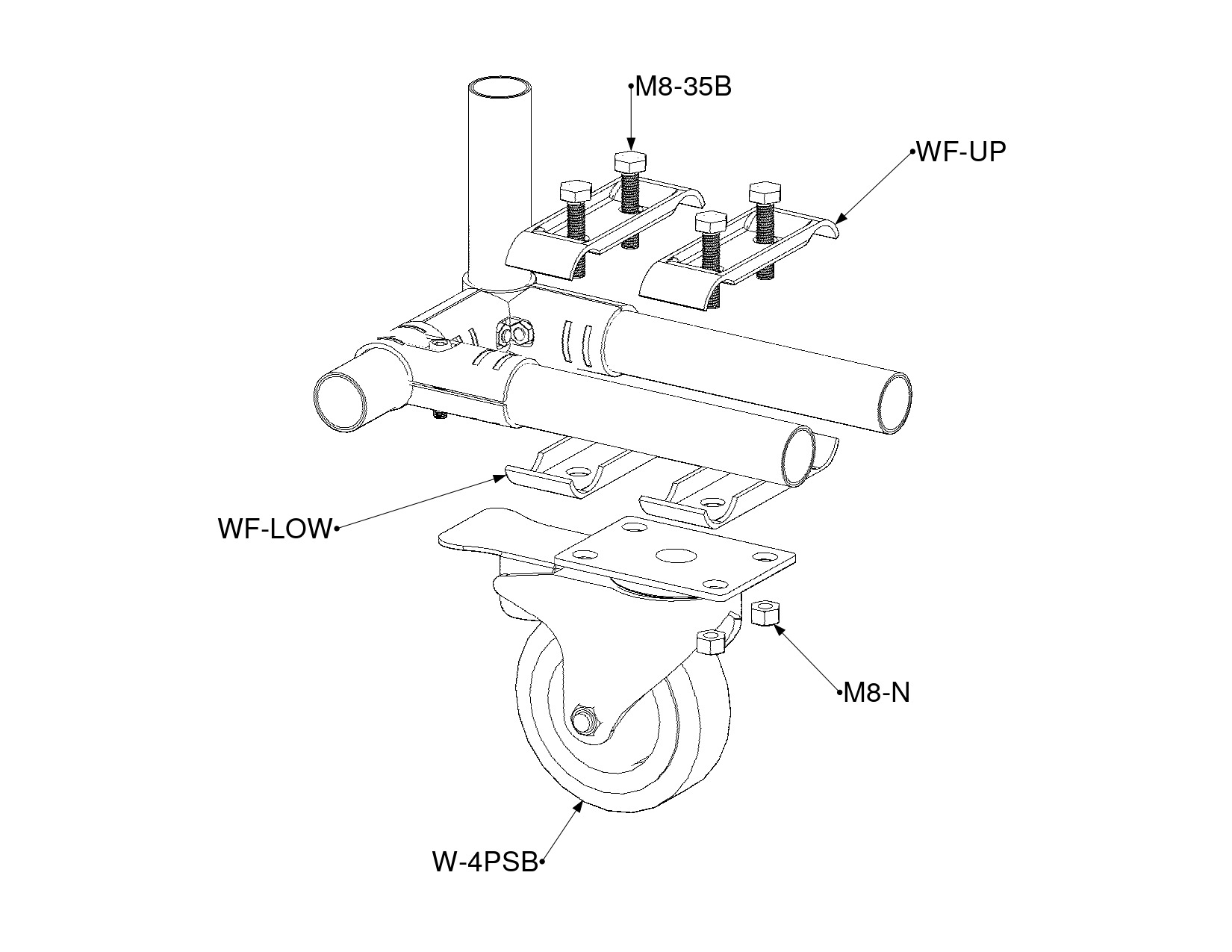 Need more informations ?
Here's everything you need to know!