Lower bracket for caster
Caster low bracket steel zinc
Stocks
Farnham: 8080
Los Angeles: 8235
Lawrenceville: 5218
Utilisé pour installer des roues à plaque
Acier galvanisé
Combinez avec WF-UP
Le WF-LOW est un support métallique utilisé pour fixer les roues à plaque conjointement avec le WF-UP sur les structures Flexpipe, telles que le W-4PSB et le W-4PF.
WF-UP et WF-LOW sont installés avec deux boulons M8-35B et deux écrous M8-N.
Vous pouvez utiliser ce support pour stabiliser deux tubes comme alternative au HJ-13. Étant donné que les supports sont plus longs que le HJ-13, cela pourrait être une bonne option.
Cet accessoire n'est pas destiné aux roulettes de six pouces. La version plus grande de ce support doit être choisie si c'est ce dont vous avez besoin. Donc, si vous utilisez des roues W-6PSB ou W-6PF, assurez-vous d'utiliser la page produit WF-LARGE.
Antistatique (ESD):
Compatible avec EP-96-ST et EP-96-BK.
Étapes d'installation:
Voir l'onglet des étapes d'installation pour voir comment assembler le WF-UP.
Vous souhaitez réutiliser des parties de votre ancien système?
Le WF-UP est compatible avec de nombreux autres systèmes de tuyaux et de connecteurs. Consultez l'onglet Informations techniques pour savoir quels systèmes sont compatibles et non compatibles avec nos pièces.
More Information

| | |
| --- | --- |
| Image Tag | /b/e/best-seller-en_3_5.png |
| Units per box (sold separately) | 180 |
| Height inches | 5/8 in (16mm) |
| Width inches | 4 9/16 in (116mm) |
| Depth inches | 1 5/16 in (33mm) |
| Unit weight pounds | 0.174 lbs (0.079 kg) |
| Box dimensions inches | 11 X 9 X 5 in (279mm X 229mm X 127mm) |
| Recyclable | Yes |
| Compatible pipe systems | Flexpipe, Creform, Fastube |
| Noncompatible pipe systems | Trilogiq |
| Reusable | Yes |
| Electric conductivity (ESD) | Yes |
| Material | Hot rolled steel (SPHC) |
| Steel hardness (HRB) | 0.65 |
| Finish | Glossy |
| System operational temperature | -58°F à 185°F (-50°C à 85°C) |
| Steel treatment | Galvanised |
| Manufacturing technique | Folded and welded |
Ensure you have the following parts:

1x W-4PSB or W-PF
2x WF-UP
2x WF-LOW
4x M8-35B
4x M8-N
2x 28mm pipes of your choice
1x Wrench
1x Ratchet

Ensure that the structure is leveled when supported by the pipes that will be wheeled. Otherwise, the height difference might cause the structure to sway.
Flip the structure for better access to the bottom pipes.
Ensure the pipes are parallel and have 3 1/4 in of center spacing.
Place the two WF-LOW perpendicular on the pipes.
Place the caster on both WF-LOW and align the openings.
Take one WF-UP and regroup it with one of the WF-LOW.
Take two M8-35B bolts and two M8-N nuts and insert them into the corresponding openings. Then lightly tighten them together.
Repeat steps 6 and 7 for the other WF-UP and the bolts and the nuts remaining.
Tighten completely the four M8-35B bolts and the four M8-N nuts in a cross pattern.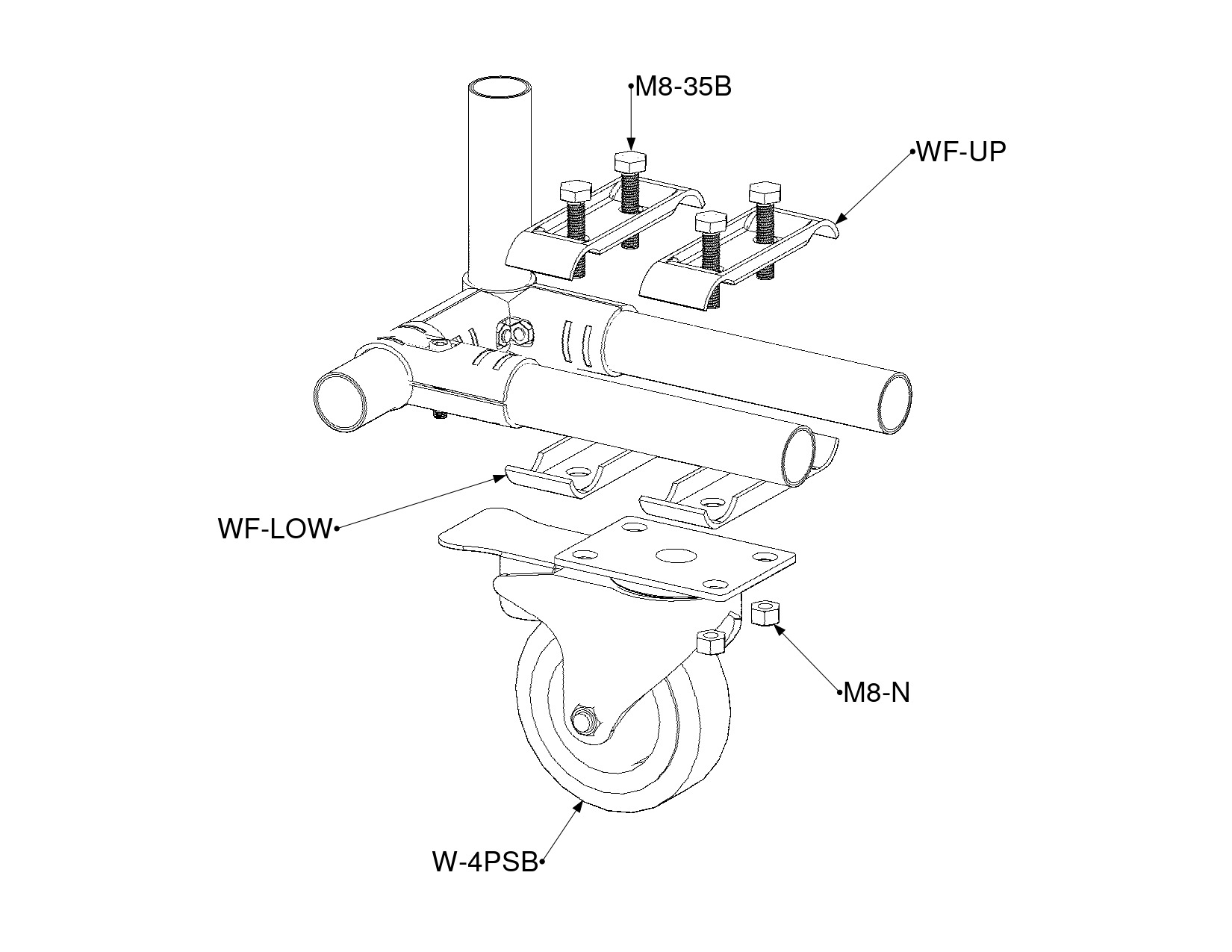 Need more informations ?
Here's everything you need to know!