Small bin hanger
Small bin hanger steel zinc
Stocks
Farnham: 1594
Los Angeles: 463
Lawrenceville: 1222
Great for hanging bins
(ESD) compatible 
Galvanized steel
The AW-HANGER is a metal accessory that lets you hang bins of different sizes. This part has one simple purpose, and it always does a good job when it comes time to hang those small blue bins.
This product gives you the ability to organize and display many containers in a more productive way, No matter the place, this product is all about easy access to small components.
If the front of the bin starts to droop drastically, it is because you have exceeded the maximum recommended weight.
The AW-HANGER should be secured at the preferred angle. We usually fix this accessory at a 90-degree angle with an F-A85/8 screw
Antistatic (ESD):
Compatible with EP-96-ST and EP-96-BK
Installation Steps:
See the installation steps tab to view how to install the AW-HANGER
Want to reuse parts of your old system?
The AW-HANGER is compatible with many other pipe and connector systems. Check the technical information tab to know which systems are compatible and non-compatible with our parts.
More Information

| | |
| --- | --- |
| Units per box (sold separately) | 40 |
| Height inches | 2 9/16 in (65mm) |
| Width inches | 3 3/8 in (86mm) |
| Depth inches | 1 5/16 in (33mm) |
| Unit weight pounds | 0.414 lbs (0.188 kg) |
| Box dimensions inches | 11 X 9 X 5 in (279mm X 229mm X 127mm) |
| Recyclable | Yes |
| Compatible pipe systems | Flexpipe, Creform, Fastube |
| Noncompatible pipe systems | Trilogiq |
| Reusable | Yes |
| Electric conductivity (ESD) | Yes |
| Material | Hot rolled steel (SPHC) |
| Steel hardness (HRB) | 0.65 |
| Finish | Glossy |
| System operational temperature | -58°F à 185°F (-50°C à 85°C) |
| Steel treatment | Galvanised |
| Manufacturing technique | Folded and welded |
Ensure you have the following parts:

1x AW-HANGER
1x F-A85/8
1x 28mm pipe of your choice
1x Surface of your choice
1x Drill w/ #2 square head

Press-fit an AW-HANGER on to the P1 pipe until it is firmly attached to the pipe.
Place a F-A85/8 screw in the corresponding opening to immobilize the AW-HANGER.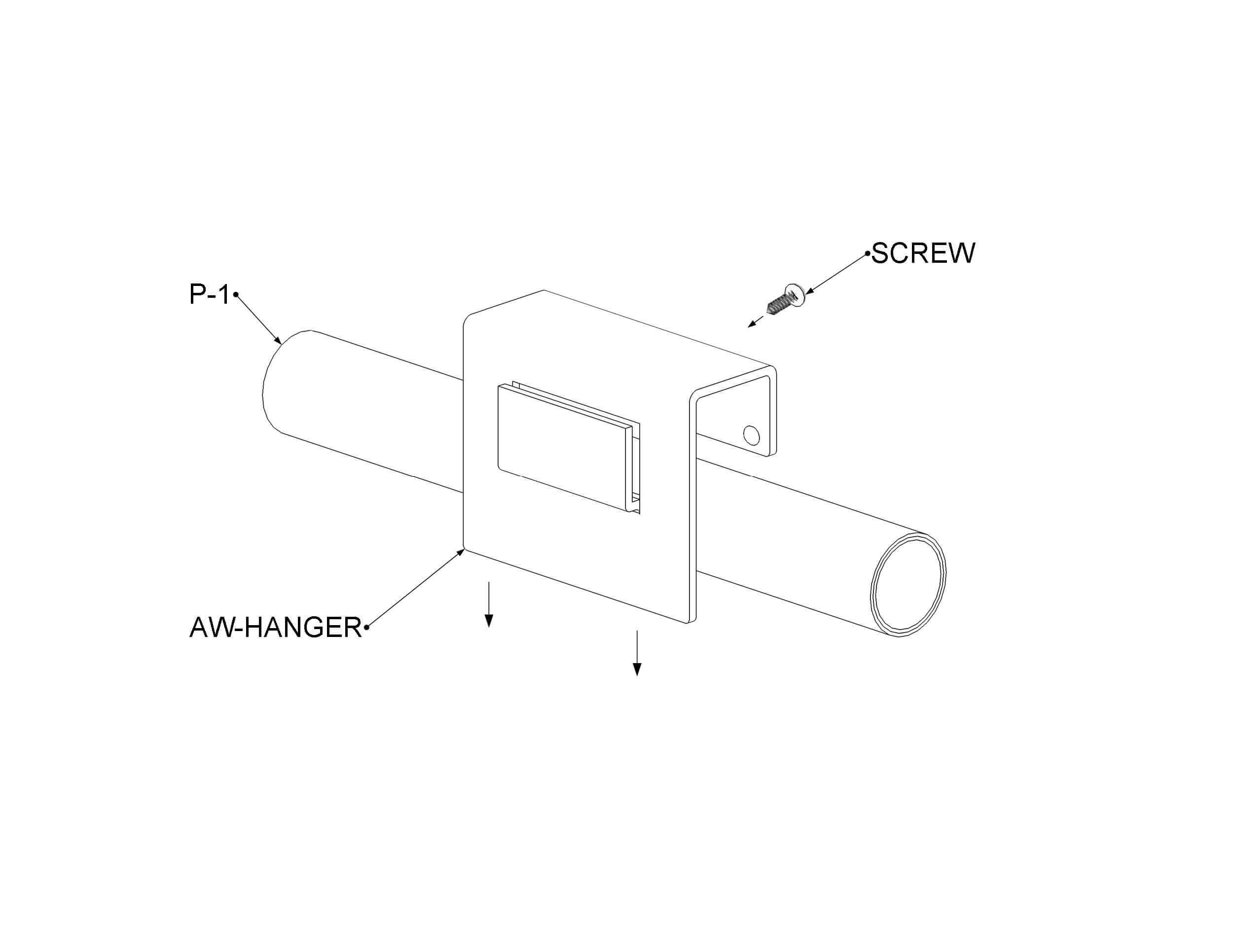 Need more informations ?
Here's everything you need to know!