Pipe clamp single mount
Pipe clamp single steel zinc
Stocks
Farnham: 4824
Los Angeles: 3194
Lawrenceville: 11626
Secures surfaces to pipe
Quick installation
230 units per box (please order individually)
The AO-EMT1 is a single mount metal clamp.
Designed to secure surfaces to our pipe and joint structures. Unlike store-bought clamps, ours are made to fit our 28 mm pipes perfectly.
Aesthetically pleasing the clamp is installed on the underside of surfaces, ultimately creating a better look.
Another option is to use them to guide cables/wires.
Antistatic (ESD):
Compatible with EP-96-ST and EP-96-BK
Installation Steps:
See the installation steps tab to view how to install the AO-EMT1
Want to reuse parts of your old system?
The AO-EMT1 is compatible with many other pipe and connector systems. Check the technical information tab to know which systems are compatible and non-compatible with our parts.
Since the AO-EMT1 allows you to secure pipes without drilling in them, you can then quickly disassemble and reuse the same pipes for other projects.
All AO-EMT1 are sold individually.
To make it easier for you, we indicated the quantity included in a box if you want to order a complete box. However, our order system considers a single amount only. Please enter the total amount of clamps you wish to receive (example; 230 units = 1 box).
More Information

| | |
| --- | --- |
| Units per box (sold separately) | 230 |
| Height inches | 1 1/8 in (29mm) |
| Width inches | 2 1/4 in (57mm) |
| Depth inches | 13/16 in (21mm) |
| Unit weight pounds | 0.044 lbs (0.020 kg) |
| Box dimensions inches | 11 X 9 X 5 in (279mm X 229mm X 127mm) |
| Recyclable | Yes |
| Compatible pipe systems | Flexpipe, Creform, Fastube |
| Noncompatible pipe systems | Trilogiq |
| Reusable | Yes |
| Electric conductivity (ESD) | Yes |
| Material | Hot rolled steel (SPHC) |
| Steel hardness (HRB) | 0.65 |
| Finish | Glossy |
| System operational temperature | -58°F à 185°F (-50°C à 85°C) |
| Steel treatment | Galvanised |
| Manufacturing technique | Folded and welded |
Ensure you have the following parts:

1x AO-EMT1
1x F-S81/2
1x 28mm pipe of your choice
1x Surface of your choice
1x Drill w/ #2 square head

Press-fit AO-EMT1 unto P1 pipe in the desired position. 
Fix the AO-EMT1 to the surface S1 with one F-S81/2 screw.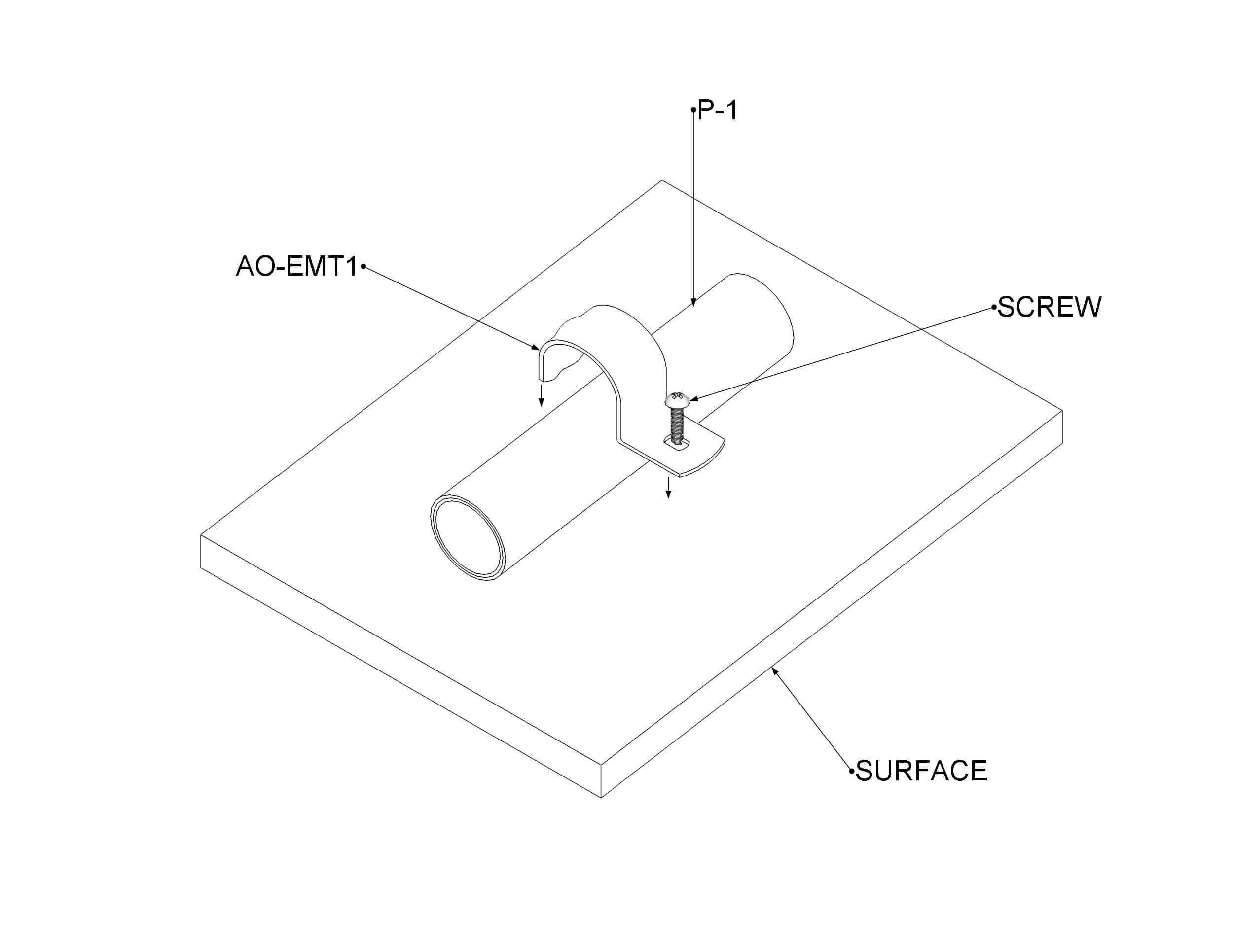 Need more informations ?
Here's everything you need to know!