The HJ-12 is a hinge connector that allows a pipe to rotate 360 degrees around another perpendicular pipe. This feature enables the creation of a multitude of rotating modules on Flexpipe structures. We use this hinge joint at Flexpipe to build doors, movable separations, and folding shelves. If you don't use a stopper on any rotating pipe, you can also slide the fitting onto this pipe and create different setups for separations. If you need to prevent sliding, be sure to take a look at the tips and tricks section of this product page.

This hinge will give you the option of adding additional working surfaces when necessary or even making entire folding structures like folding tables. To make an HJ-12, you need to assemble two H-12 around an AP-HINGE with one M6-25B bolt and one M6-N nut.

Designing Flexpipe structures with the HJ-12 can be tricky if you have not built a structure with a pipe and joint system before. We recommend that you visit our photo section to find ideas on how best to make use of this connector.

More Information

| | |
| --- | --- |
| Needed parts | 2 (H12) + 1 (AI-HINGE) + 1 (M6-25B) + 1 (M6-N) |
| External height inches | 1 7/16 in (36mm) |
| External width inches | 3 5/16 in (84mm) |
| External depth inches | 1 1/2 in (38mm) |
| Unit weight pounds | 0.4 lbs (0.181 kg) |
| RoHS certification | Yes |
| Recyclable | Yes |
| Frequency of use | Low |
| Reusable parts | Yes |
| range of motion | 360° |
| Electric conductivity (ESD) | No |
| Material | Hot rolled steel (SPHC) |
| Steel hardness (HRB) | 0.65 |
| Finish | Glossy |
| UV resistance | High |
| System operational temperature | -40°F à 122°F (-40°C à 50°C) |
| Steel treatment | Black cathodic electrodeposition (Ecoating) |
| Striations for grip | 4 |
1- Make sure you have the following parts:
2 H-12
1 AP-HINGE
1 M6-25B
1 M6-N
2 28mm pipes of your choice
1 Allen key or one drill equipped with an Allen key with a 5 mm tip
2- Take a AP-Hinge and press it on the pipe P1 until the hinge is fix.
3-Take two connectors H-12 and group them around the AP-HINGE.
4-Take a M6-25B bolt and a M6-N nut and insert them into the corresponding openings. Make sure to put the bolt on the more accessible side.
5-Tighten the M6-25B bolt and nut M6-N together a few threads , but no more.
6- Insert the P2 pipe within the HJ-12 between the first and second guides as shown in the plan .
7- Tighten completely the M6-25B bolt and M6-N nut together until the HJ- 12 attached firmly to the AP-HINGE and the pipe P2 . A force of 9.8 Nm is recommended for this step.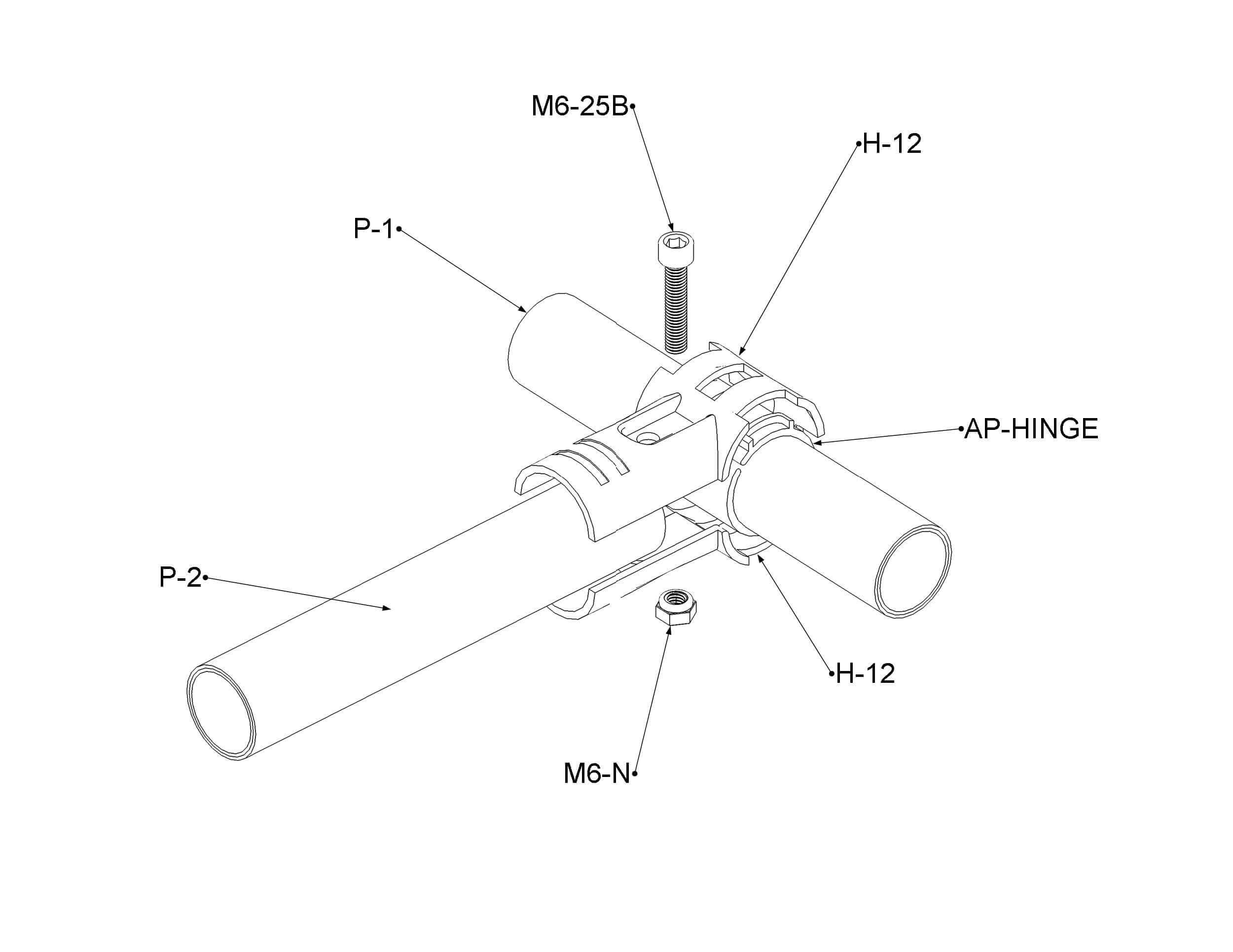 Need more informations ?
Here's everything you need to know!