Intersection joint set
Intersection joint set steel bk
The HJ-7 is a metal connector set that allows you to connect two pipes perpendicularly, one above another. This joint is mainly used for building 2-level wire meshes, shelf supports, and for reinforcing wheels and structures after they are completed.

To make an HJ-7, you need to place two H-7 together with one M6-25B bolt and one M6-N nut. The purpose of using this connector is mostly to reinforce your structures. Once installed, it doubles the structural strength of the two perpendicular pipes. The same result can be achieved for parallel pipes by using the HJ-13 so be sure to check this one out if you want to reinforce parallel pipes. Unlike the HJ-4, this assembly can create a wire mesh without having to break the pipes and in a way where they don't lose structural capacity but rather gain some.

This connector is one of the easiest to assemble in all the Flexpipe system. Select the ESD version if you need to build antistatic structures or if you prefer the look of the nickel-plated joints.

More Information

| | |
| --- | --- |
| Best Seller | No |
| Units per box | NA |
| Needed parts | 2 (H7) + 1 (M6-25B) + 1 (M6-N) |
| External height inches | 1 5/16 in (33mm) |
| External width inches | 3 in (76mm) |
| External depth inches | 1 5/16 in (33mm) |
| Unit weight pounds | 0.231 lbs (0.105 kg) |
| RoHS certification | Yes |
| Recyclable | Yes |
| Frequency of use | Moderate |
| Reusable parts | Yes |
| Electric conductivity (ESD) | No |
| Material | Hot rolled steel (SPHC) |
| Steel hardness (HRB) | 0.65 |
| Finish | Glossy |
| UV resistance | High |
| System operational temperature | -40°F à 122°F (-40°C à 50°C) |
| Steel treatment | Black cathodic electrodeposition (Ecoating) |
1- Make sure you have the following parts:
2 H-7
1 M6-25B
1 M6-N
2 28mm pipes of your choice
1 Allen key or one drill equipped with an Allen Key 5mm tip
2-Take two connectors H-7 and group them around the P1 and P2 pipes.
3-Take a M6-25B bolt and a M6-N nut and insert them into the corresponding openings. Make sure to put the bolt on the more accessible side.
4- Tighten completely the M6-25B bolt and M6-N nut together until the HJ-7 attached firmly to the two pipes . A force of 9.8 Nm is recommended for this step.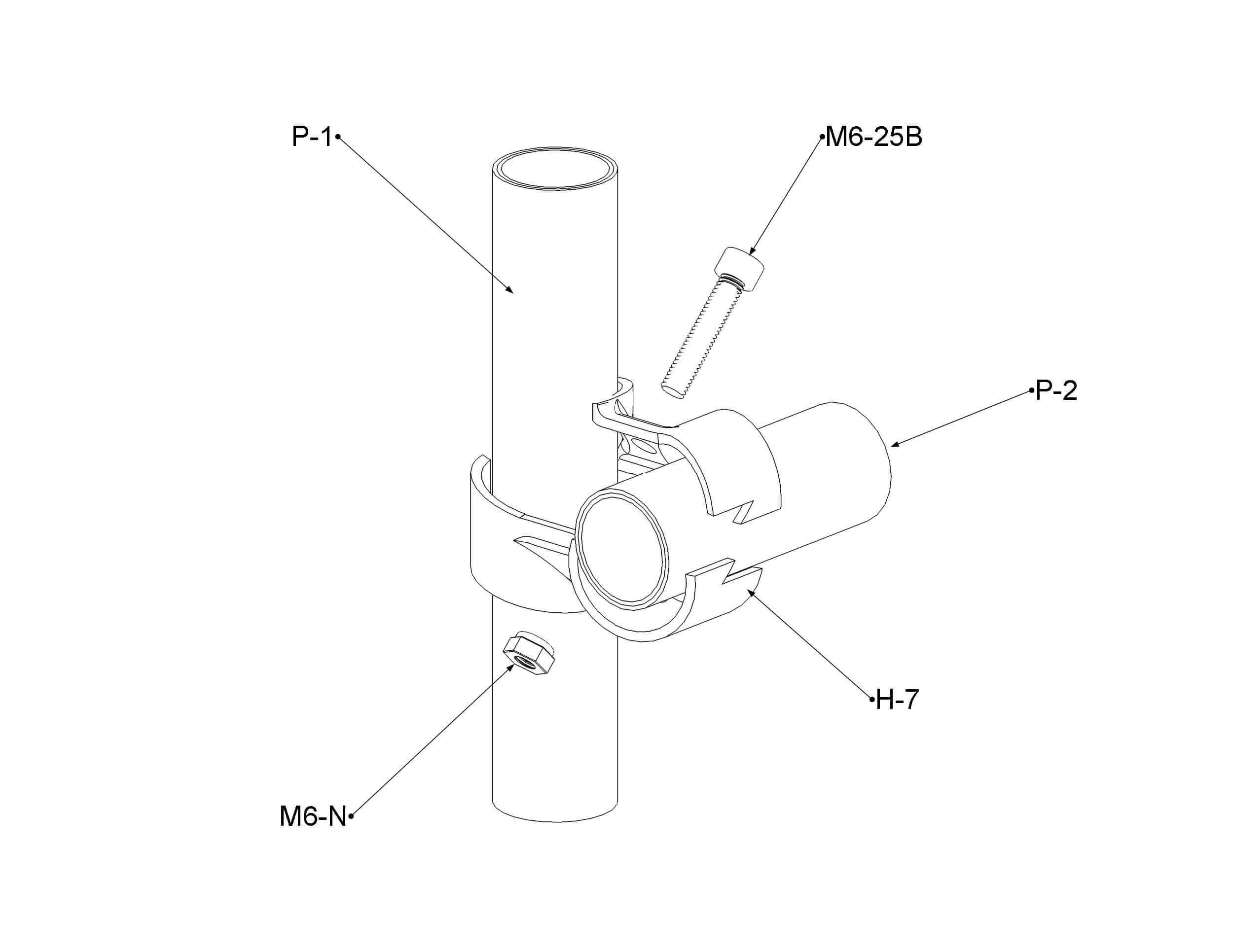 Need more informations ?
Here's everything you need to know!