Tee joint set
Tee joint set steel cr
The HJ-1NP is a metal anti-static connector set that allows you to connect two 28mm pipes in a T-shape or to create a corner. This connector is the most easily assembled and the most commonly used in the entire Flexpipe system. You can rotate this connector up to 360 degrees before fixing it to make 45- or 90-degree supports for surfaces or just for supporting your products.

The HJ-1NP is so versatile that you can build whole custom structures with just this connector and some pipes. Applications for this connector are numerous, from corners to separations, pegs, 45-degree supports, and supports for accessories like the AW-HOLDER. To assemble an HJ-1NP you need to group two H-1NP together with a bolt M6-25BWZ and a nut M6-NWZ. You should always keep a box of these three parts in inventory, since they are going to be involved in 95% of Flexpipe structures.

This connector was designed for quick and easy installation. The two H-1NP making up the connector were designed with dovetails to ensure a super strong connection between the pipes. Lines on the exterior side of the fitting serve as a gage for pipe insertion limit. This is very useful for inexperienced users, such as floor operators who need to assemble their workstations. The HJ-1NP was also manufactured with eight gripping striations and four screw holes for maximal strength when building heavy-duty structures.

The HJ-1NP is compatible with most 28mm pipe systems out there. This lets our new customers use the pipes they already have in stock so that nothing goes to waste.
More Information

| | |
| --- | --- |
| Best Seller | No |
| Units per box | NA |
| Needed parts | 2 (H1NP) + 1 (M6-25BWZ) + 1 (M6NWZ) |
| External height inches | 3 1/4 in (83mm) |
| External width inches | 1 5/16 in (33mm) |
| External depth inches | 1 5/16 in (33mm) |
| Unit weight pounds | 0.315 lbs (0.143 kg) |
| RoHS certification | Yes |
| Recyclable | Yes |
| Frequency of use | Very High |
| Reusable parts | Yes |
| Electric conductivity (ESD) | Yes |
| Material | Hot rolled steel (SPHC) |
| Steel hardness (HRB) | 0.65 |
| Finish | Glossy |
| UV resistance | High |
| System operational temperature | -40°F à 122°F (-40°C à 50°C) |
| Steel treatment | Nickel electroplating |
| Striations for grip | 8 |
| Positioning guide | 4 |
| Additional reinforcement hole | 4 |
1- Make sure you have the following parts:
2 H-1NP
1 M6-25BWZ
1 M6-NWZ
2 28mm pipes of your choice
1 Allen key or one drill equipped with an Allen Key 5mm tip
2- Take two connectors H-1NP and group them around the P1 pipe.
3- Take a M6-25BWZ bolt and a M6-NWZ nut and insert them into the corresponding openings. Make sure to put the bolt on the more accessible side.
4- Tighten the M6-25BWZ bolt and nut M6-NWZ together a few threads , but no more.
5- Insert the P2 pipe within the HJ-1NP between the first and second guides as shown in the plan .
6- Tighten completely the M6-25BWZ bolt and M6-NWZ nut together until the HJ-1NP attached firmly to the two pipes . A force of 9.8 Nm is recommended for this step.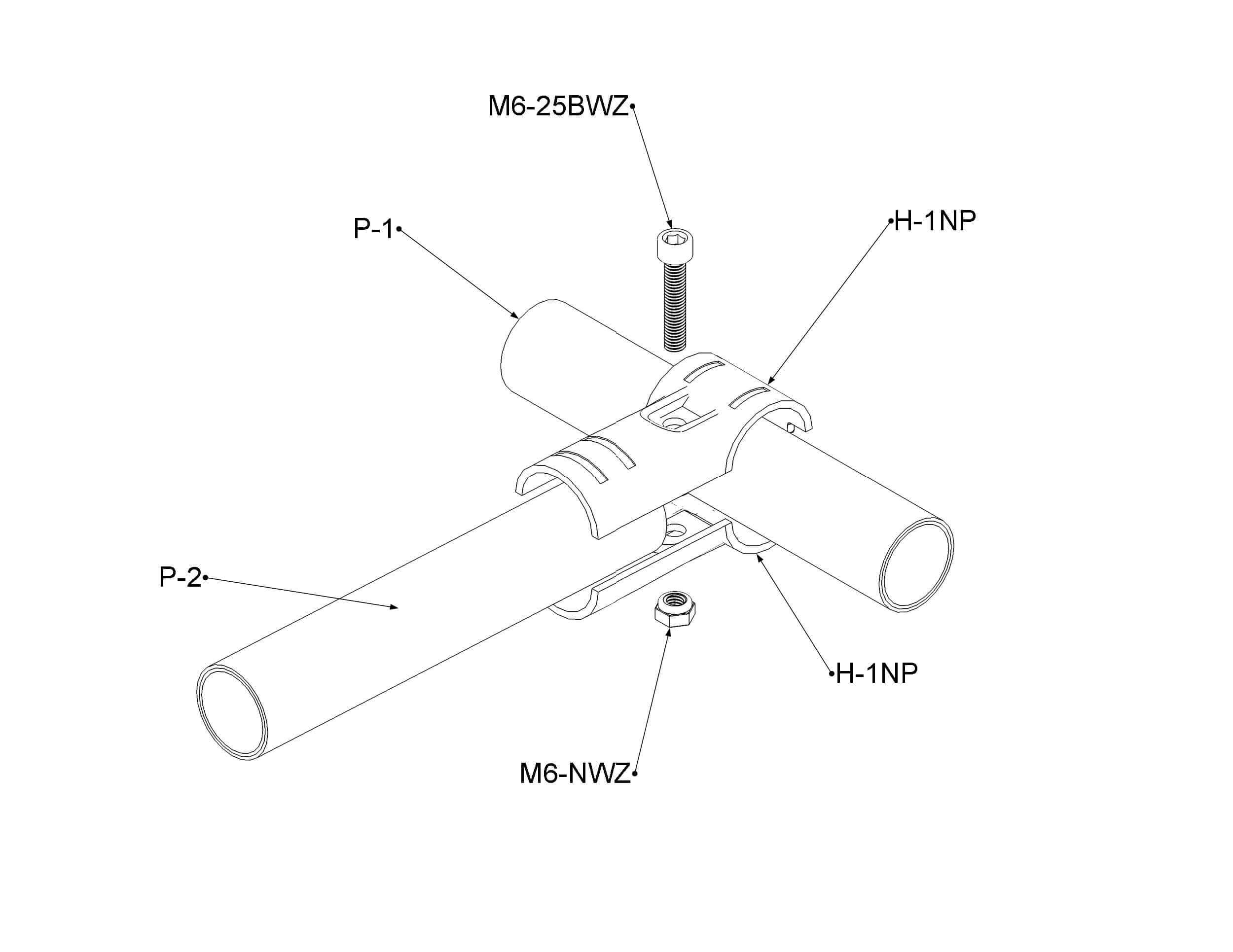 Need more informations ?
Here's everything you need to know!