45⁰ fix angle joint set
45 fix angle joint set steel cr
The HJ-17NP is an angled metal anti-static connector used to reinforce two perpendicular pipes. Unlike the HJ-6NP, HJ-6A, and HJ-14, this joint has a permanent 45-degree angle. This characteristic makes it particularly useful for individual reinforcement situations. If you have two perpendicular pipes and need to strengthen them, this joint is the best solution if you can afford to connect those pipes with a 45-degree pipe, which is not always the case.

Unlike the other angle connectors, this metal joint is only composed of two parts instead of four or six, which also makes it twice as fast to assemble. That structural characteristic makes it much stronger than the other solutions and increases the overall structural capacity of your Flexpipe structure. To make an HJ-17NP, you need to connect an H-17NP and an H-18NP with one M6-12BWZ bolt and one M6-NWZ nut.

The main application of the HJ-17NP is to create a brace that enhances the structural capacity of the structures. However, you can also use this joint to create a strong 45-degree peg.

More Information

| | |
| --- | --- |
| Best Seller | No |
| Units per box | NA |
| Needed parts | 1 (H17) + 1 (H18) + 1 (M6-25B) + 1 (M6-N) |
| External height inches | 2 1/8 in (54mm) |
| External width inches | 3 1/4 in (82mm) |
| External depth inches | 1 5/16 in (33mm) |
| Unit weight pounds | 0.323 lbs (0.147 kg) |
| RoHS certification | Yes |
| Recyclable | Yes |
| Frequency of use | Moderate |
| Reusable parts | Yes |
| Electric conductivity (ESD) | Yes |
| Material | Hot rolled steel (SPHC) |
| Steel hardness (HRB) | 0.65 |
| Finish | Glossy |
| UV resistance | High |
| System operational temperature | -40°F à 122°F (-40°C à 50°C) |
| Steel treatment | Nickel electroplating |
| Striations for grip | 8 |
1- Make sure you have the following parts:
1 H-17NP
1 H-18NP
1 M6-25BWZ
1 M6-NWZ
2 28mm pipes of your choice
1 Allen key or one drill equipped with an Allen Key 5mm tip
2-Take a connector H-17NP and a connector H-18NP and group them around the P1 pipe.
3-Take a M6-25BWZ bolt and a M6-NWZ nut and insert them into the corresponding openings. Make sure to put the bolt on the more accessible side.
4. Tighten the M6-25BWZ bolt and nut M6-NWZ together a few threads , but no more.
5- Insert the P2 pipe within the HJ-17NP between the first and second guides as shown in the plan .
6. Tighten completely the M6-25BWZ bolt and M6-NWZ nut together until the HJ-17NP attached firmly to the two pipes . A force of 9.8 Nm is recommended for this step.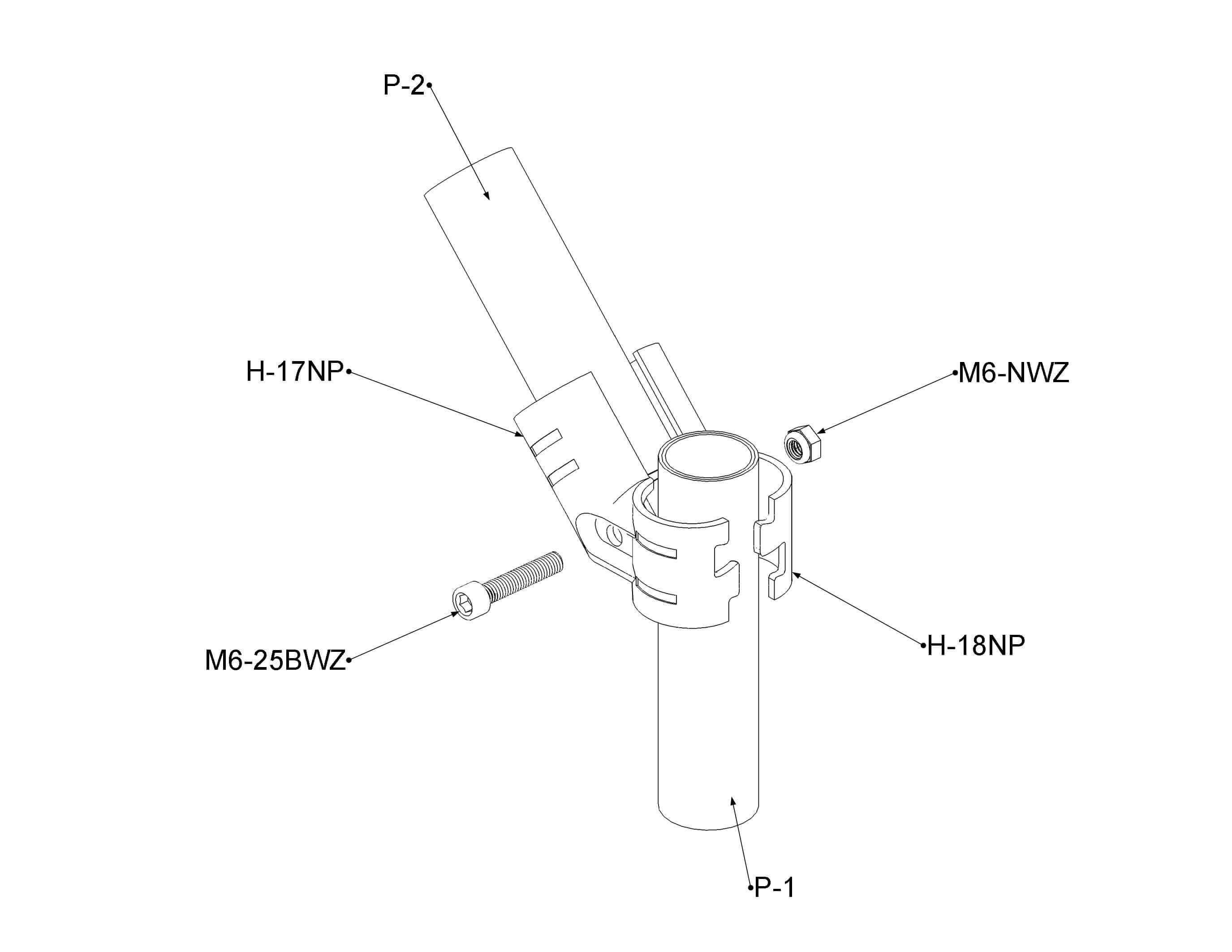 Need more informations ?
Here's everything you need to know!