3" Stem ESD Rigid Caster - DISCONTINUED
3'' anti-static rigid stem-mount caster - DISCONTINUED
Stocks
Farnham: 0
Los Angeles: 0
Lawrenceville: 0
More Information

| | |
| --- | --- |
| Units per box (sold separately) | 6 |
| Unit weight pounds | 1.4 lbs (0.65 kg) |
| Box dimensions inches | L11 X W9 X H5 in (L280 X W235 X H130 mm) |
| Wheel diameter inches | 3 in (76 mm) |
| Total height inches | 4 1/16 in (104 mm) |
| Tread width inches | 1 1/4 in (32 mm) |
| RoHS certification | Yes |
| Recyclable | Yes |
| Reusable | Yes |
| Recommend surfaces | Asphalt, pavement, ceramic, carpet, flat steel, stone, wood, brick, linoleum, granit |
| Surfaces marking | None |
| Noise | None |
| Electric conductivity (ESD) | Oui |
| Corrosion resistance | Good |
| System operational temperature | -22°F to 158°F (-30°C to 70°C) |
| Loading capacity | 150 lbs (68 Kg) |
| Bearing type | Precision ball bearing |
| Wheel material | Thermoplastic Rubber (TPR) |
| Tread hardness | 70A |
| Wheel finish | Matte |
| Brake type | None |
| Wheel type | Rigid |
| Radius | 3 in (76 mm) |
| Maximum speed | 2.5 M/h |
| Oil resistance | Good |
Ensure you have the following parts:

1x EW-3EF
1x WF-U5/16 U-bolt - included with the caster.
2x WF-U5/16 nuts - included with the caster.
1x WF-U5/16 metal plate - included with the caster.
1x 28mm pipe of your choice
1x Ratchet Wrench 3/4 in.
1x Ratchet Wrench 5/16 in.

Ensure that the structure is levelled when supported by the pipes that will be wheeled. Otherwise, the height difference might cause the structure to sway.
Flip the structure for a better access to the bottom pipes.
Unscrew the 3/4 in. bolt underneath the plate of the caster using the wrench.
Tighten the nut located on the top of the stem for the rubber bushing to expend until it barely fits inside the pipe.
Insert the wheel rod completely inside the pipe. Help yourself with a mallet if needed.
Tighten the same 3/4 in. bolt using the wrench 3/4 and let the wheel rotate until it grips firmly inside the pipe.
Place the WF-U5/16 metal plate between the pipe and the caster and aligned it with the corresponding openings.
Insert the WF-U5/16 U-bolt in the openings in order to trap the tube inside the U-bolt.
Tighten the WF-U5/16 nuts with the U-bolt using the wrench 5/16.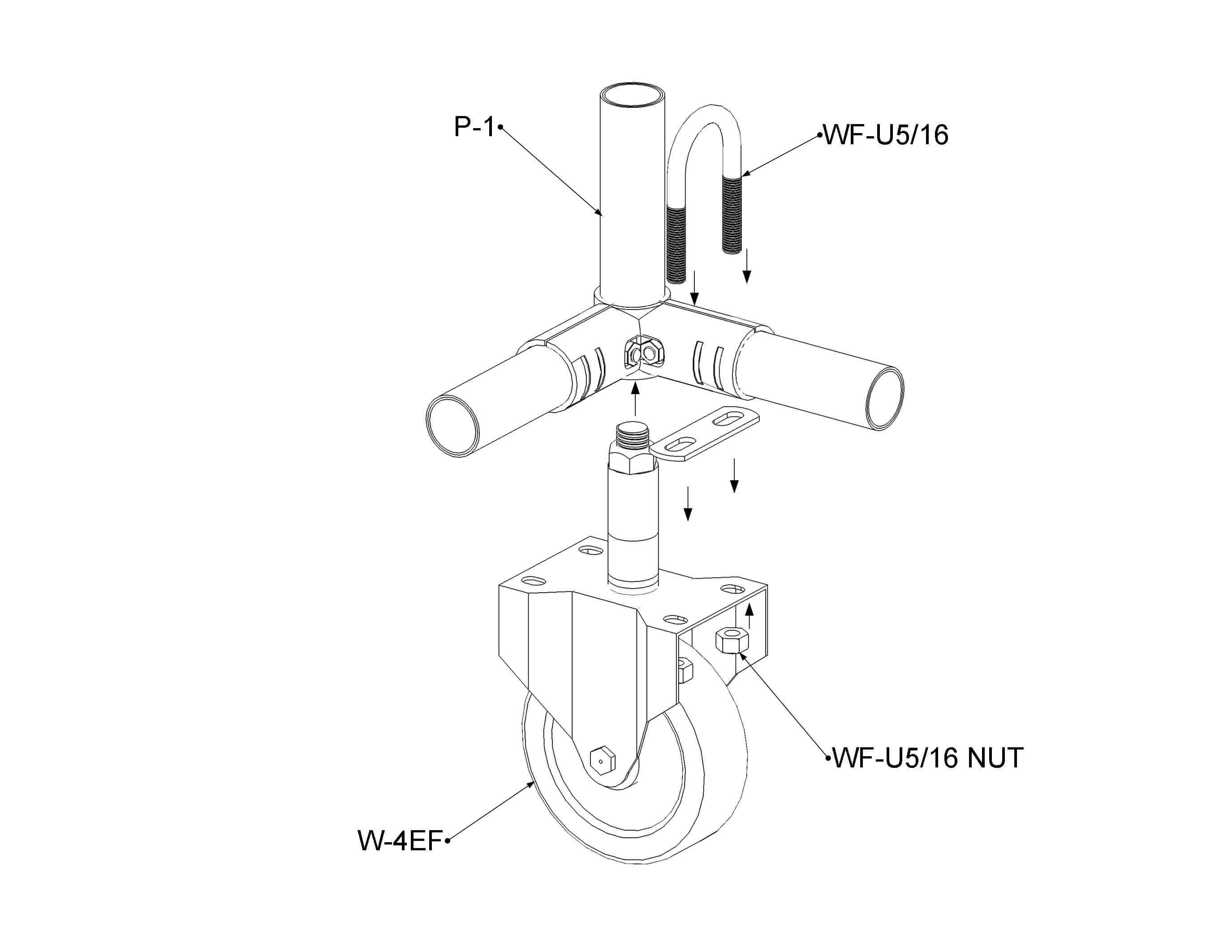 Need more informations ?
Here's everything you need to know!