Bolt with threadlock
Bolt threadlock white zinc
Stocks
Farnham: 16438
Los Angeles: 30390
Lawrenceville: 85854
Used to prevent accidental loosening of fasteners over time due to vibration
Ideal when assembly is not going to be checked for long periods of time
1800 units per box (please order individually)
The M6-25BWZTL is a white zinc-plated bolt with threadlock which is used to assemble 17 of the 18 different connectors of the ESD Flexpipe system. This bolt and the M6-NWZ nut are the foundation of each Flexpipe ESD structure.
This bolt comes with a solution used to seal (lock) the fastener assemblies together to prevent accidental loosening of the fasteners over time.
The best reason to use a threadlocker solution is to prevent the accidental back off of fastener assemblies due to vibration. We suggest using a threadlocker solution any time an assembly is going to be under strain or vibration.
We don't recommend that you use this part with the M6-NWZ nut to connect anything other than the Flexpipe system.
Installation Steps;
See the installation steps tab to view how to assemble this bolt.
Technical Information:
This bolt is fixed to the M-6NWZ using a 5mm T-HANDLE allen wrench.
(It is essential that the bolt is tightened between 12-14 N.m torque.)
Want to reuse parts of your old system?
The M6-25BTL Flexpipe is compatible with many other pipe and connector systems. Check the technical information tab to know which systems are compatible and none-compatible with our parts.
More Information

| | |
| --- | --- |
| Units per box (sold separately) | 1800 |
| Unit weight pounds | 0.015 lbs (0.007 kg) |
| System operational temperature | -40°F to 572°F (-40°C to 300°C) |
Ensure you have the following parts:

1x Joint set of your choice
(1-4)x M6-25BWZTL bolts (depending on Joint set)
(1-4)x M6-NWZ nuts (depending on Joint set)
(2-5)x 28mm pipes of your choice (depending on Joint set)
1x T-HANDLE 5mm hex key

Group connectors around corresponding pipes.
Make sure to put the bolt on the most accessible side and insert the smaller diameter of the nut into the corresponding hole.
Loosely tighten all M6-25BWZTL bolts and M6-NWZ nuts by putting them in the corresponding openings of the particular joint set.(Press the nut into the connector using your finger tip and turn the bolt into the nut with other hand).
Fully insert all pipes
Tighten completely the M6-25BWZTL and the M6-NWZ together until the Joint set is firmly attached to the pipes. A force between 12-14 Nm is recommended for this step.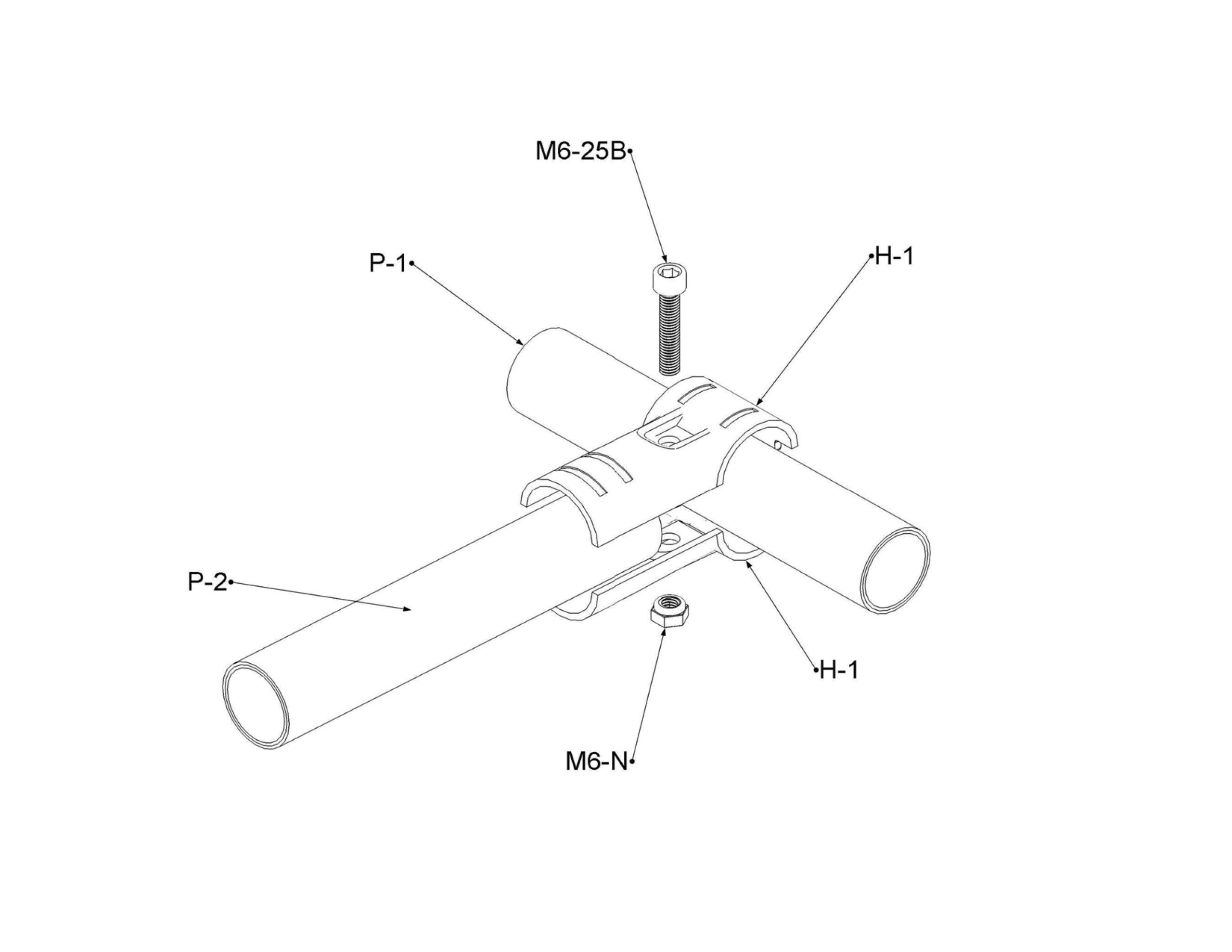 Need more informations ?
Here's everything you need to know!