Parallel hinge joint set - DISCONTINUED
Paral. hinge joint set steel cr - DISCONTINUED
More Information

| | |
| --- | --- |
| Units per box (sold separately) | NA |
| Needed parts | 2 (H19) + 1 (AP-HINGE) + 1 (M6-25B) + 1 (M6-N) |
| External height inches | 1 7/8 in (48mm) |
| External width inches | 3 5/16 in (84mm) |
| External depth inches | 1 1/2 in (38mm) |
| Unit weight pounds | 0.319 lbs (0.145 kg) |
| RoHS certification | Yes |
| Recyclable | Yes |
| Frequency of use | Very low |
| Reusable parts | Yes |
| range of motion | 360° |
| Electric conductivity (ESD) | Yes |
| Material | Hot rolled steel (SPHC) |
| Steel hardness (HRB) | 0.65 |
| Finish | Glossy |
| UV resistance | High |
| System operational temperature | -40°F à 122°F (-40°C à 50°C) |
| Steel treatment | Nickel electroplating |
| Striations for grip | 8 |
| Additional reinforcement hole | 4 |
1- Make sure you have the following parts:
2 H-19NP
1 AP-HINGE
1 M6-25BWZ
1 M6-NWZ
2 28mm pipes of your choice
1 Allen key or one drill equipped with an Allen Key 5mm tip
2- Take two AP-Hinge and press them on the P1 and P2 pipes until the hinge are fix. 3- Take two connectors H-19NP and group them around the both AP-HINGE.
4-Take a M6-25BWZ bolt and a M6-NWZ nut and insert them into the corresponding openings. Make sure to put the bolt on the more accessible side.
5- Tighten completely the M6-25BWZ bolt and M6-NWZ nut together until the HJ-19NP attached firmly to hinge . A force of 9.8 Nm is recommended for this step.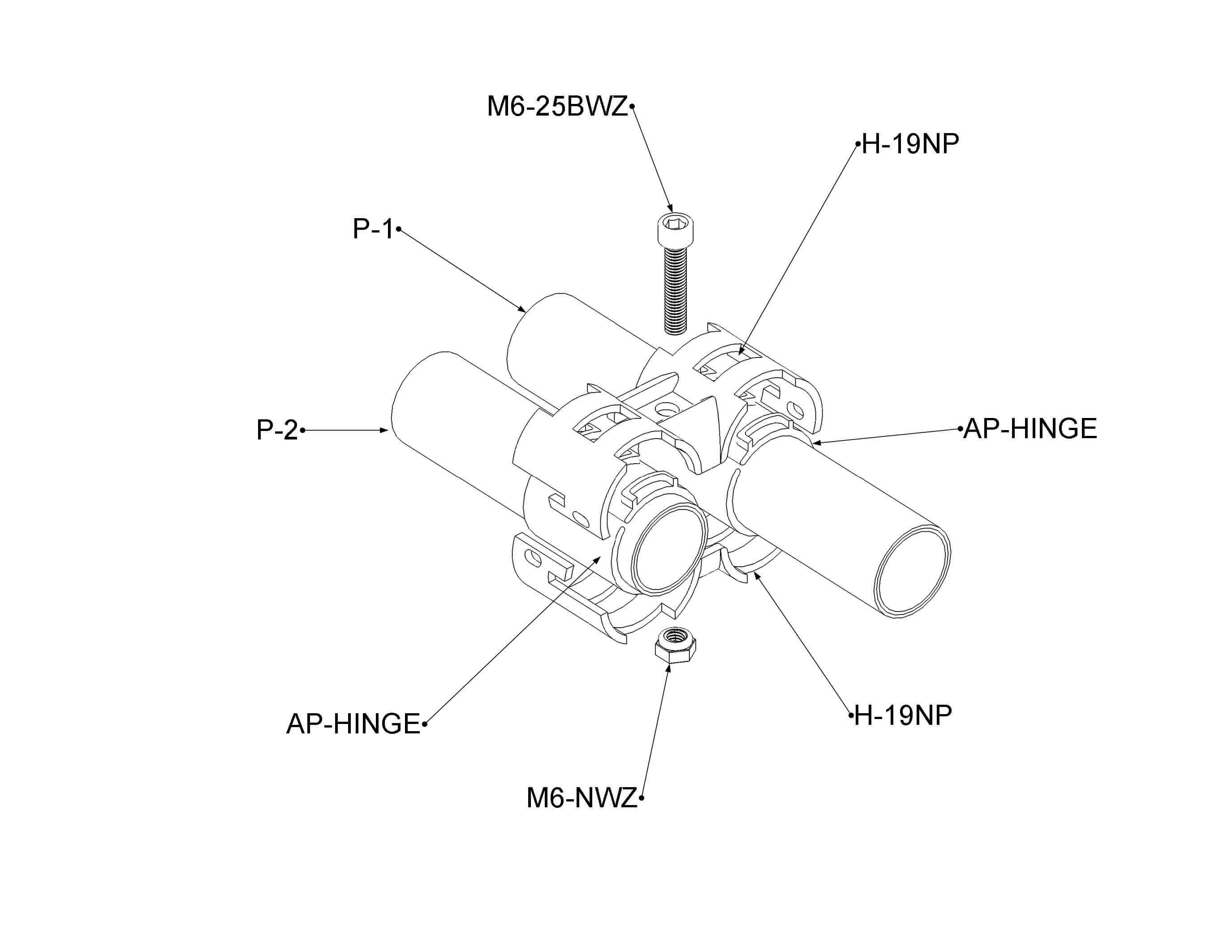 Need more informations ?
Here's everything you need to know!